Dutch Total Soccer has been hosting high quality Summer Soccer Programs in the New York Metropolitan area for over 10 years. DTS now offers the possibility of hosting a DTS Summer Soccer Program at your location!
Dutch Total Soccer Summer Soccer Programs

DTS brings to you the very best in soccer instruction. Every trainer has gone through the KNVB Academy in Holland and all coaches are UEFA licensed. Our coaches come to you having coached and trained at professional clubs in the Netherlands. Your players and coaches will see the difference in the Dutch Method of training, teaching players WHAT to do, WHEN to do it and HOW to do it at the technical and tactical speed that is required in the modern game. Each unique training session is designed to help players achieve their maximum potential through progressive exercises that are challenging to all levels of players. Summer Soccer Programs can be designed to meet your club or organizations needs.
Club Advantages
Hosting a DTS Summer Soccer Program at your club has several advantages:
– Extra revenue during the Summer Season for your organization
– A guaranteed profitable program
– Hosting a unique style program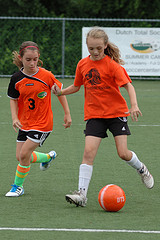 – Club promotion for players outside the program
– Player development during the Summer Season
Pricing and Revenue Share
DTS offers a guaranteed profitable summer program for your location. To discuss the details of the Pricing and Revenue Share for your club, please contact the DTS Summer Program Director, Tom Nota.
Information Brochure
For more information about hosting a DTS Summer Soccer Program at your location, click here to download the brochure.
Contacts
For more information and to discuss hosting a DTS Summer Soccer Program at your location, please contact:

Tom Nota
DTS Summer Program Director
C: 908-809-2788
E: Tom@DutchTotalSoccer.com
For media inquiries please contact shelley@dutchtotalsoccer.com