Hi Parents!
Welcome to the blog for the DTS Overnight Camp at The Gunnery in Washington, CT! We will be using this blog to give parents, friends, and other family members an inside look as to what players are doing throughout the week. We're confident your players will have a great time and learn a lot! This week our Camp Director is Coach Roald and our Soccer Trainers are: Coach Paul, Coach Marijn, Coach Marc and Coach Kevin. We will be posting a few photos here on our blog. To view even more photos from camp, check out our Facebook & Instagram.
Sunday July 30th
The first day of camp at the Gunnery was fabulous! We had really nice weather for the campers to move in this afternoon and to hit the field for their first session of camp. When the campers got to the field they were divided into groups based on their ages and then put into teams of 3. For the first session, the campers played 3 v 3 to get warmed up and comfortable with their groups. After every water break, they would switch teams so that they could learn the names of everyone in the group and who they would be working with for the week. Players were moved around based on ability levels to figure out what group would provide a challenging environment. After the first session, they had some down time before dinner to be able to finishing unpacking, meet the different campers on their floors, and relax. Campers headed to dinner shortly after where there was roasted vegetables, potato wedges, pork, salad bar, and fruit. All the campers before eat were told to make sure to keep a balanced meal and it showed as they filled up their plates with fruits and vegetables! It's important for everyone to fuel their bodies properly in order to have enough energy to perform well during the daily three training sessions.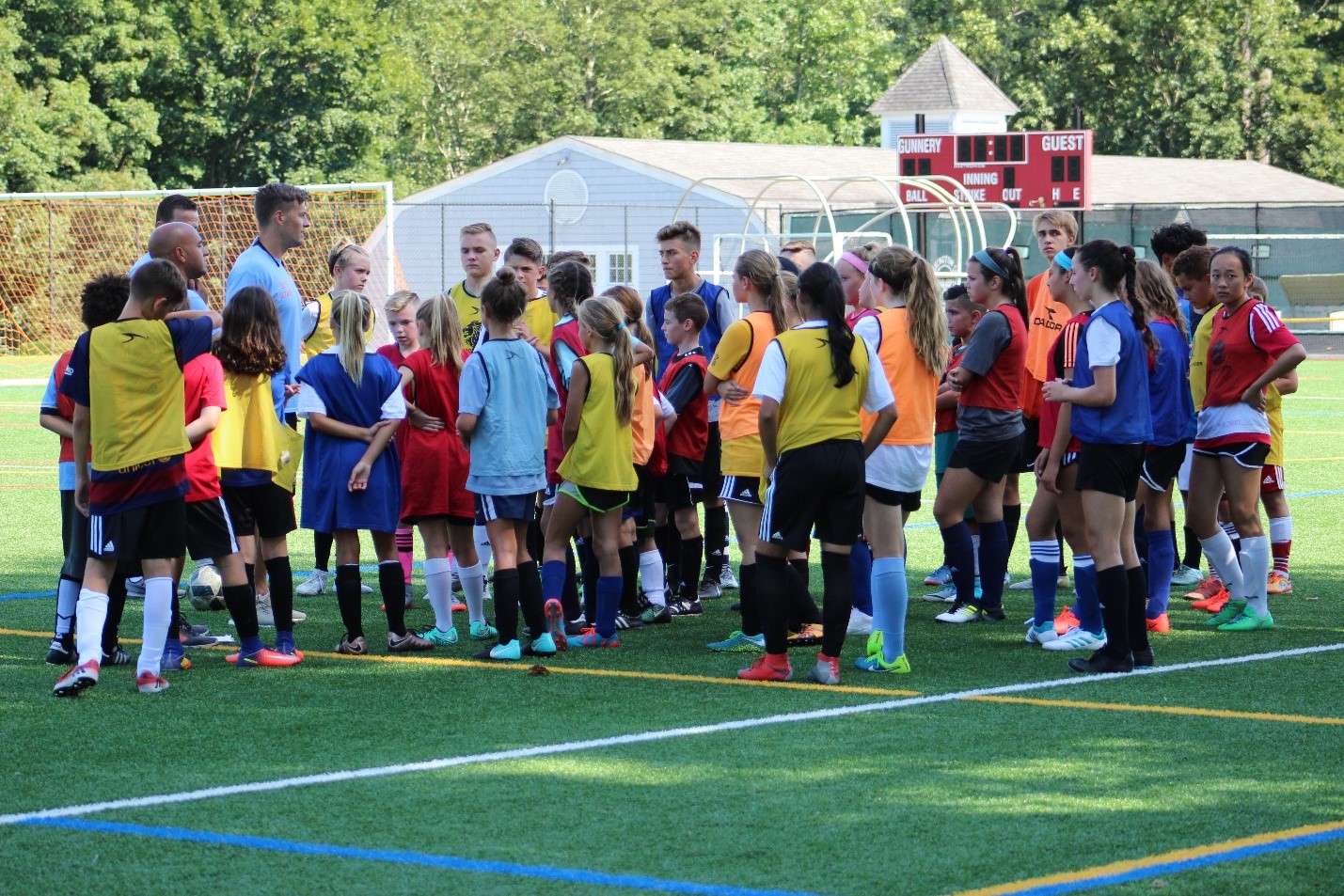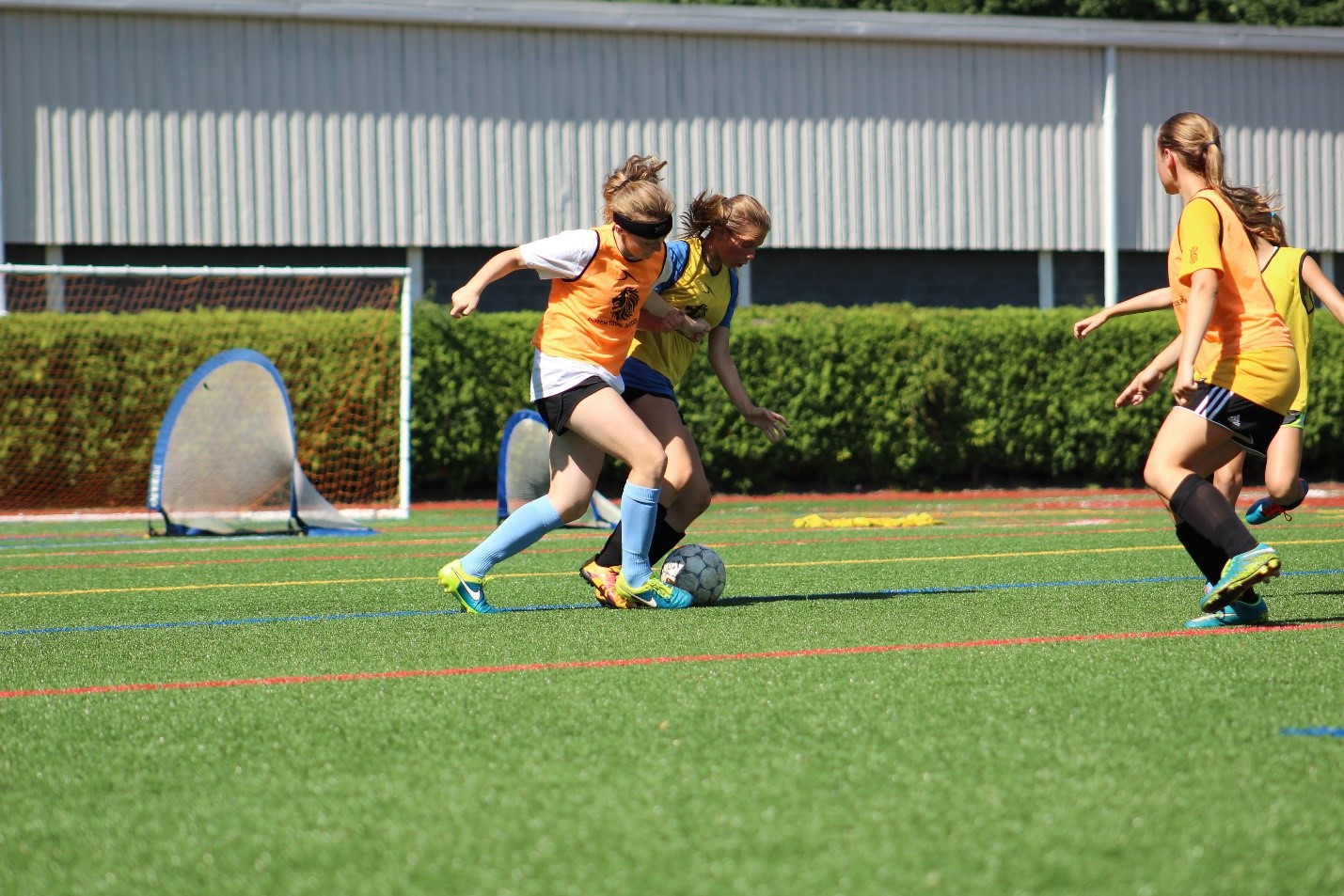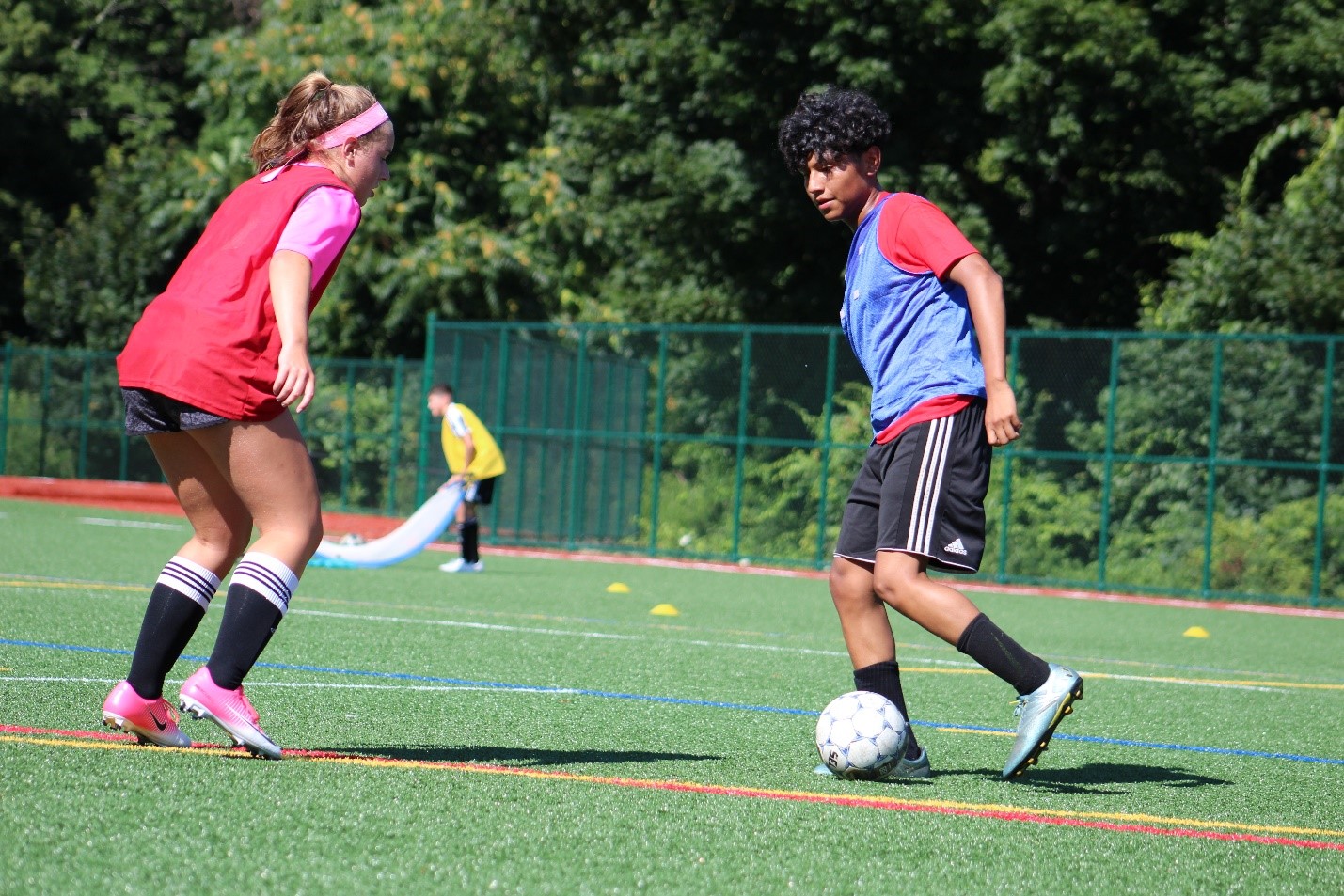 When they were finished eating they got a little bit of extra time in the dining hall so that they could digest, and then headed back onto the field for the night session. They immediately split up into their groups and started training on their touches and 1 v.1 skills. They did drills that involved dribbling, cutting, dragging, and defending. The high energ ythat was there in the afternoon session carried over the night session. Camps all seemed very excited and ready to start the week ahead! Afterwards, we returned to the dorms after the night session where they showered and had some downtime to relax. Lights out is at 10 and they have an early morning tomorrow where they have to wake up at 6:45 for soccer aerobics. We look forward to sharing our experiences with you this week! Stay tuned.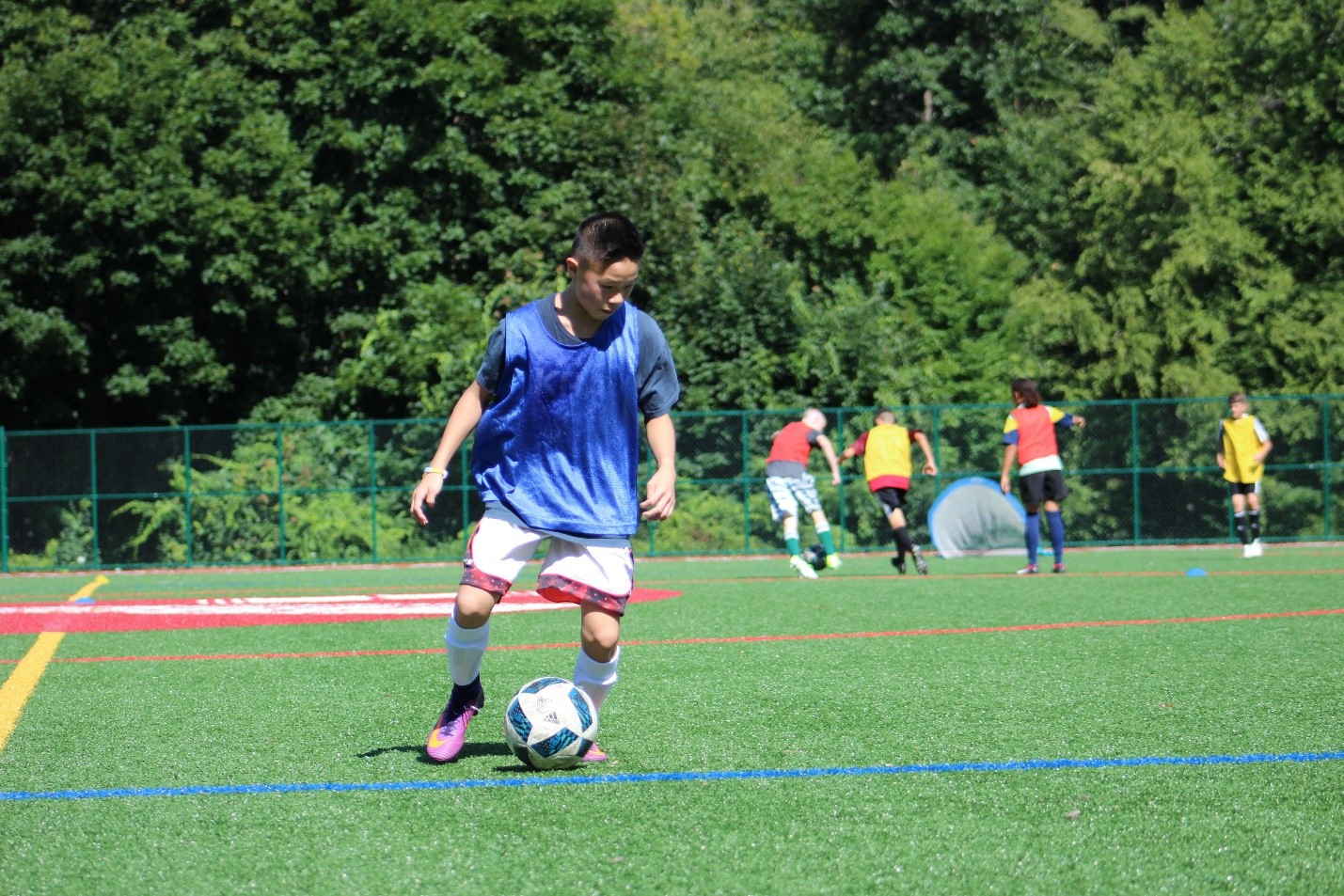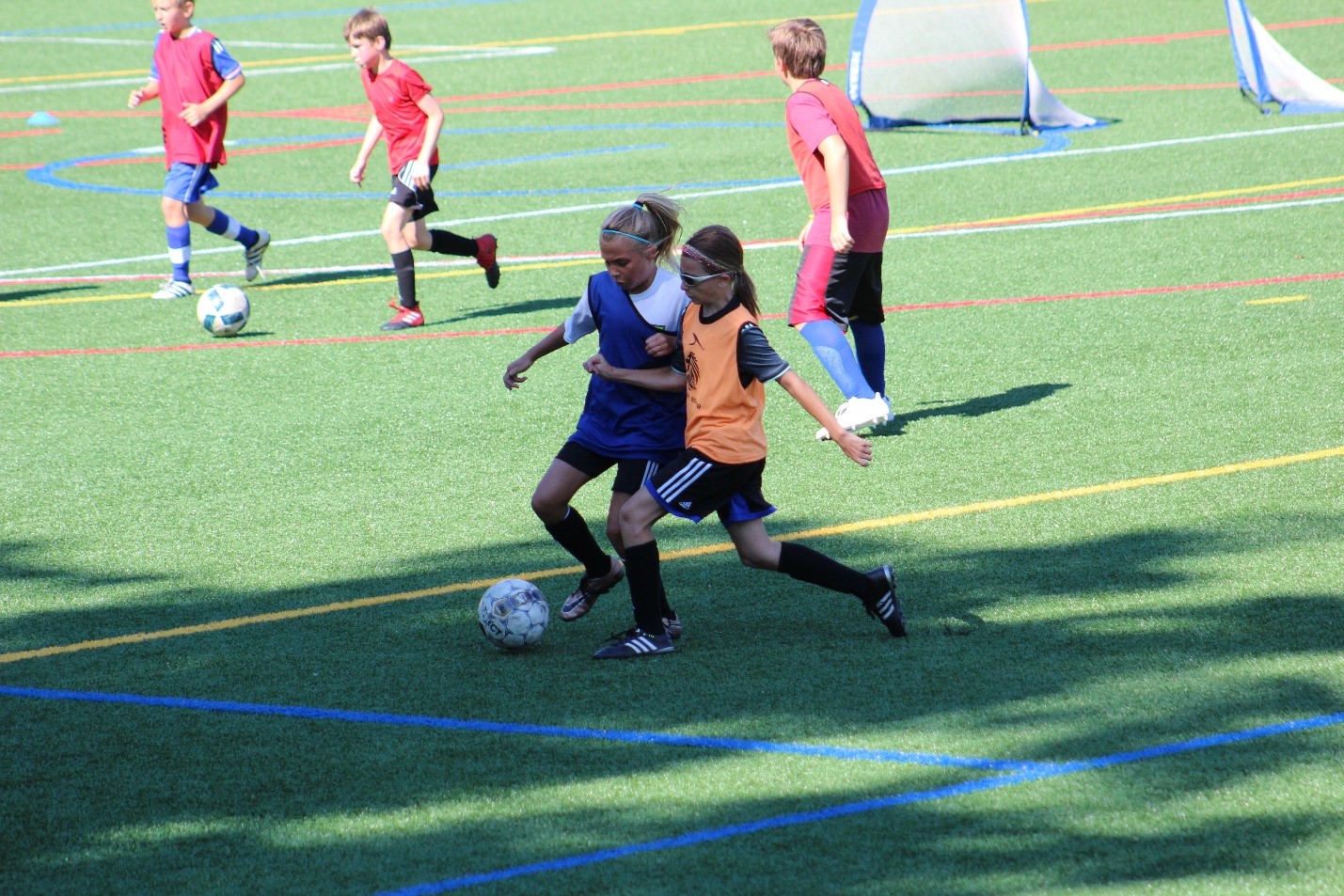 Monday July 31st
The campers started today off with soccer-aerobics! They woke up at 6:45 and headed to gym where they worked on their core strength. After aerobics they went straight to breakfast where they enjoyed some pancakes, scrambled eggs, potatoes, sausage, muffins, and fruit. They then returned to the dorms where they had some down time to digest their food and grab their cleats, shin guards, and water bottles for the morning session. The morning session they immediately divided into groups where they warm up and started working on their dribbling and moves. Coaches taught various passing moves and did 1 v. 1.  Passing moves are moves that allow the player to go forward past the defender. Once they learned a couple of moves they transitioned into 1 v. 1 to allow them to practice the moves in a real life situations. We had great weather this morning — it wasn't too hot outside but campers got plenty of water breaks under the giant trees near the field. They worked hard the first session and definitely deserved some lunch and downtime.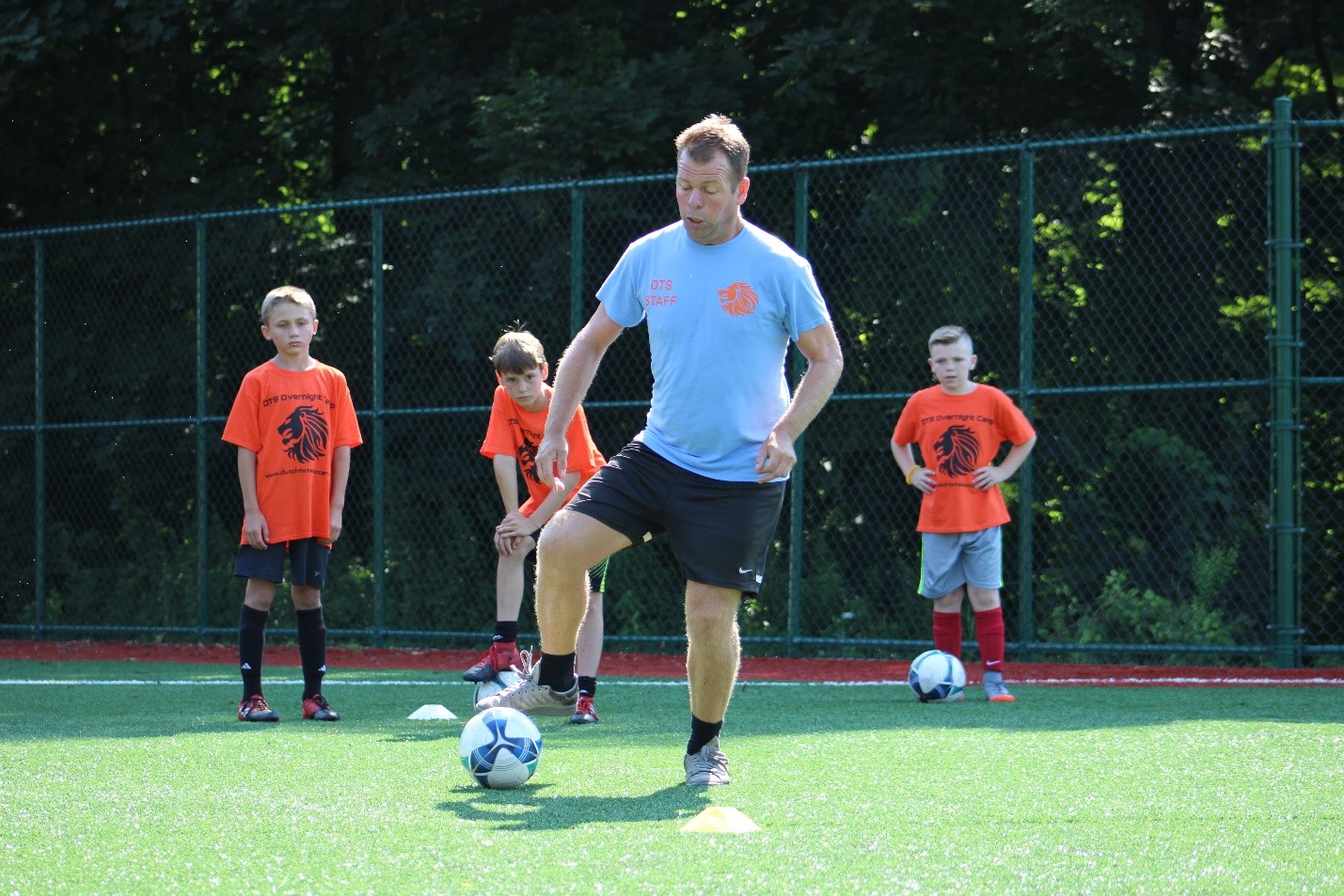 After the morning session campers went to lunch where there was hamburgers, black bean burgers french fries, salad bar, sandwiches, and fruit. Campers than got an hour worth of down time where they spent relaxing, napping, or playing games. Someone brought mancala, cards, and a Switch where they could have a Mario Cart competition. They had a well-rested downtime and went to the field for the afternoon session where they reviewed their passing moves, played 3v1 and 4v2 keep away where they have to find the opened player, did shooting on Camp Director Roald, and did some scrimmaging. The campers were kept busy and worked super hard during the session. The afternoon session was little on the hot side so in between the different drills and activities, they got some decent breaks to relax and rehydrate.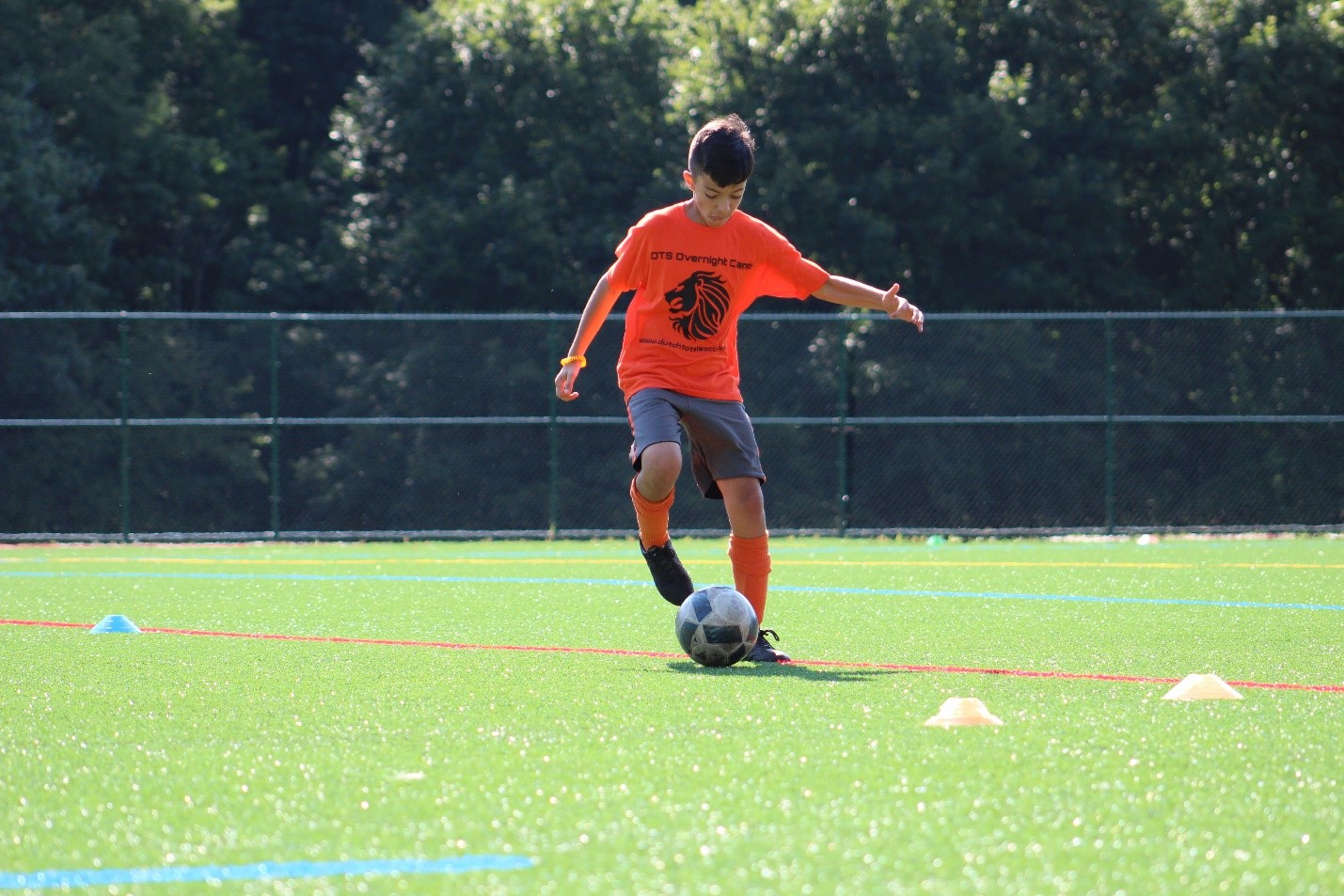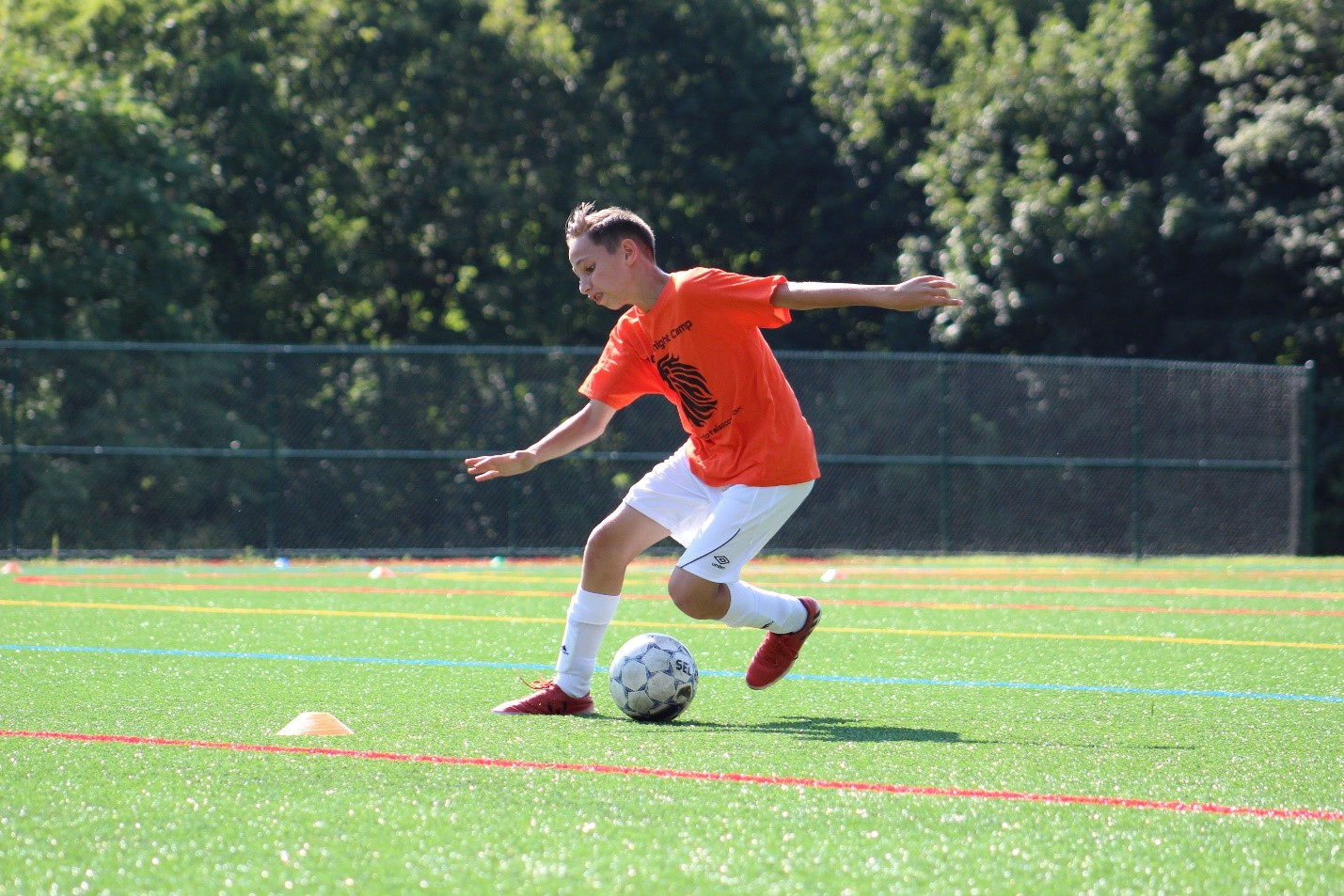 Once the afternoon session was over, campers went straight to dinner. For dinner there was BBQ chicken, rice, broccoli, salad bar, fruit. There was even desert. The campers could choose from fudge brownie or caramel pudding with whip cream and Oreo pieces. Campers got some downtime after dinner where they were relaxing before their last session of the night. The last session of the night is always a little more fun for campers because they get a little bit of different fun. So the stations were futsal, ultimate Frisbee, football, and soccer kickball. Each group got to play two of the stations tonight and will be switching rotating every night so everyone can be at the station for a long period of time and truly enjoy it.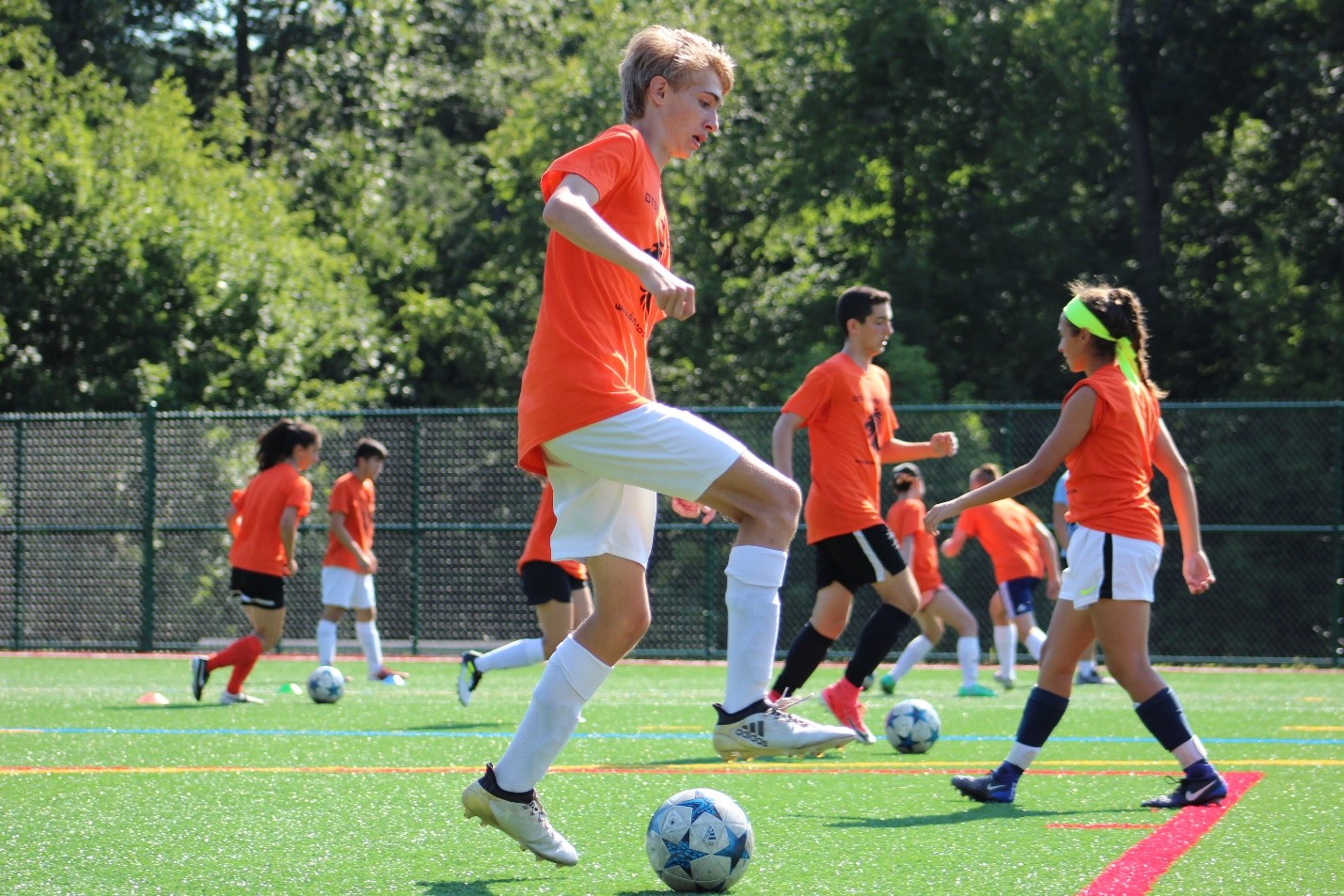 Campers left the night session with big smiles and a lot of sweat, they were definitely ready for those showers. They headed back to the dorms to shower and when they were done showering everyone went to the lounge in the main building where they could socialize with their different group members and campers, play different games that were in the lounge, and watch some TV. Lights out was at 10:00 and some campers were definitely ready for bed. Plus, they would have to get up early for soccer aerobics again tomorrow morning. This would be their last morning of it so they will be able to sleep in the rest of the week. Overall, today was a great day and the campers worked supremely hard! Everyone is excited for the rest of camp.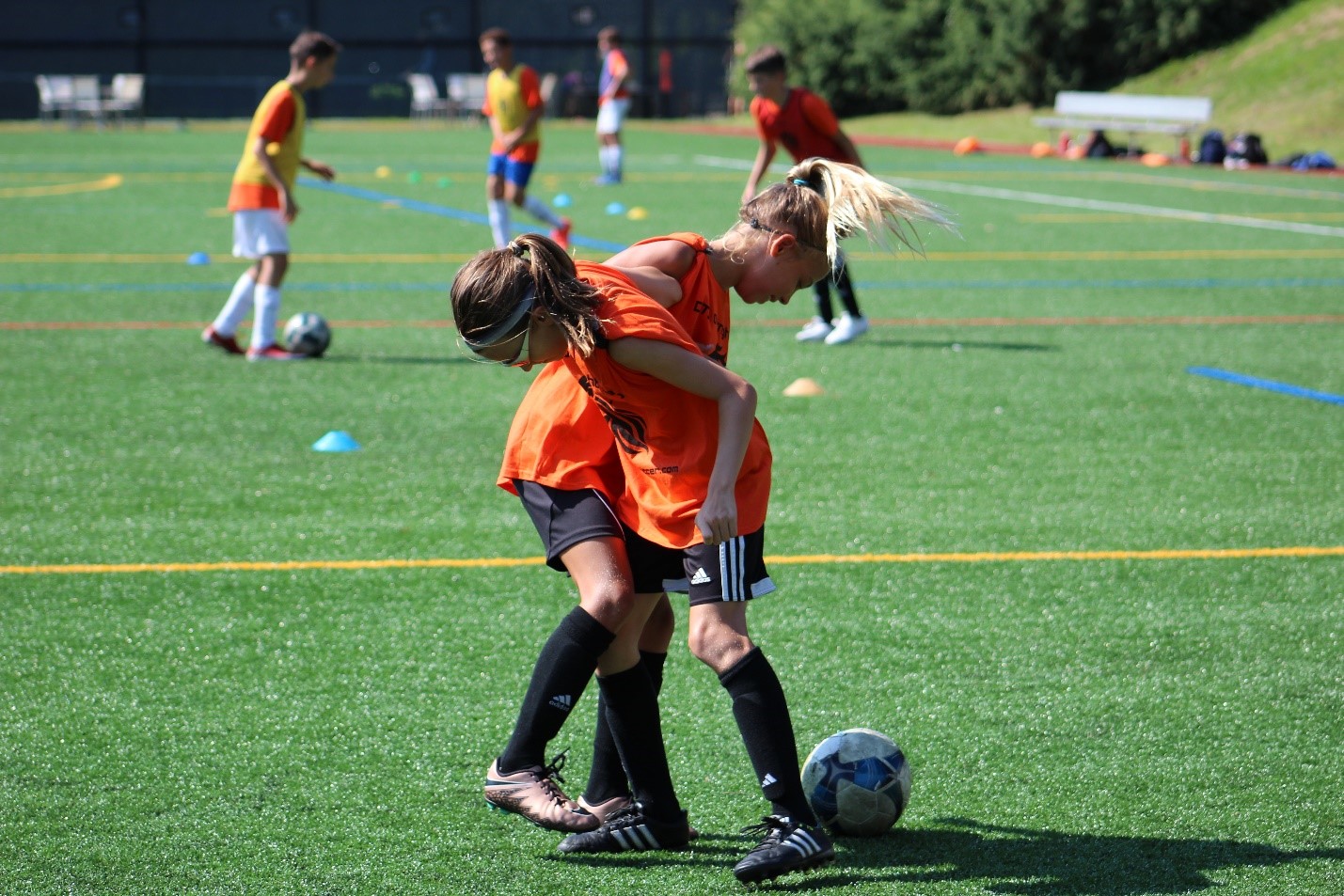 Tuesday August 1st
Tuesday morning started bright and early at 6:45! Today was our last morning of soccer aerobics so from now on, we will get sleep in until 7:15am! After soccer aerobics they went to breakfast where they had egg cheese and sausage on an english muffin, bacon, fruit, oatmeal, and hash browns. The campers were pretty quiet during breakfast but once they hit the fields for the morning session, they were wide awake and ready to work.  In the morning session they learned different back moves because if you can't go forward another option is to go backwards. They did some passing and receiving specifically on overlapping. Finally they did some different scrimmaging drills to allow them to use the back moves that they learned and to work on overlapping.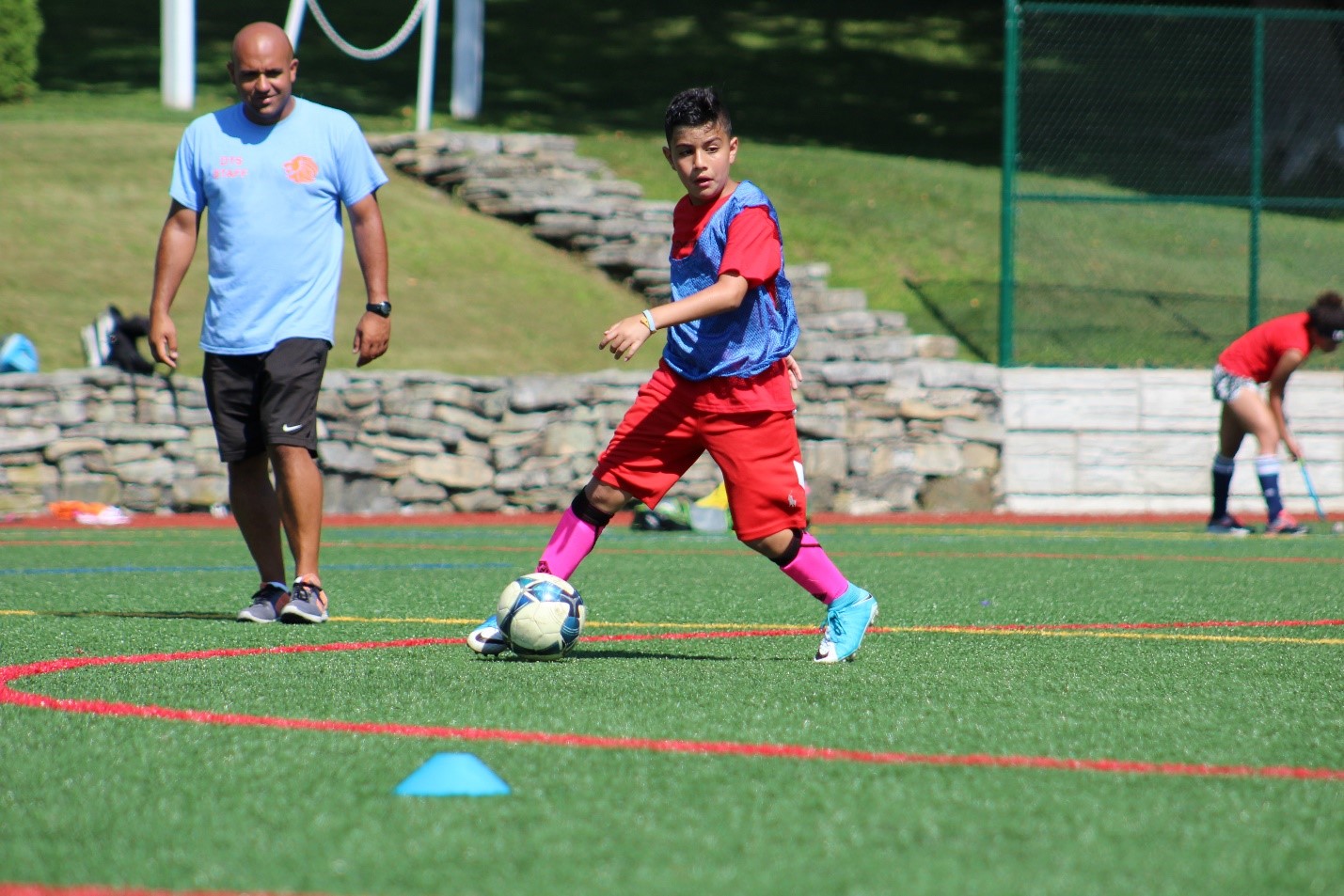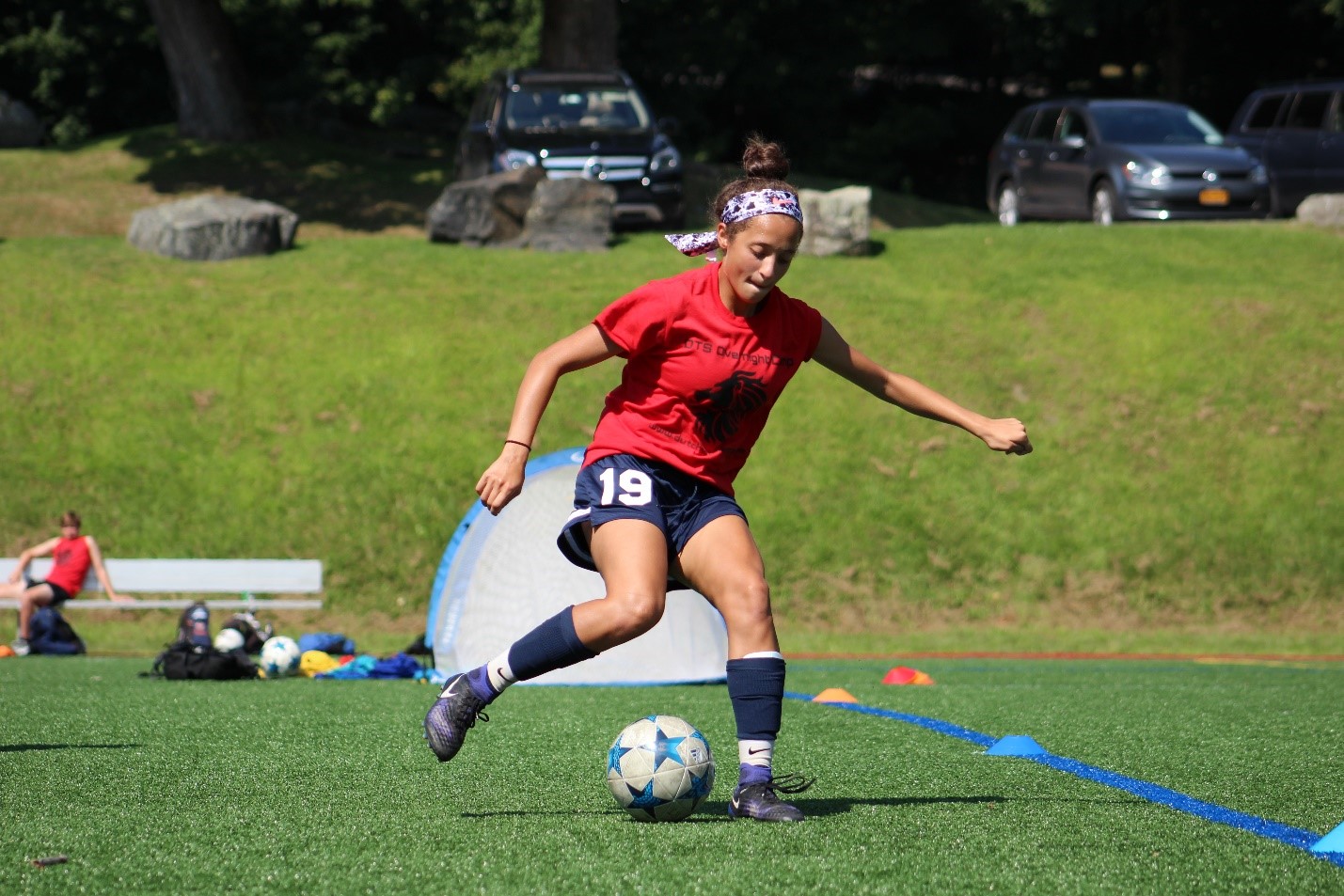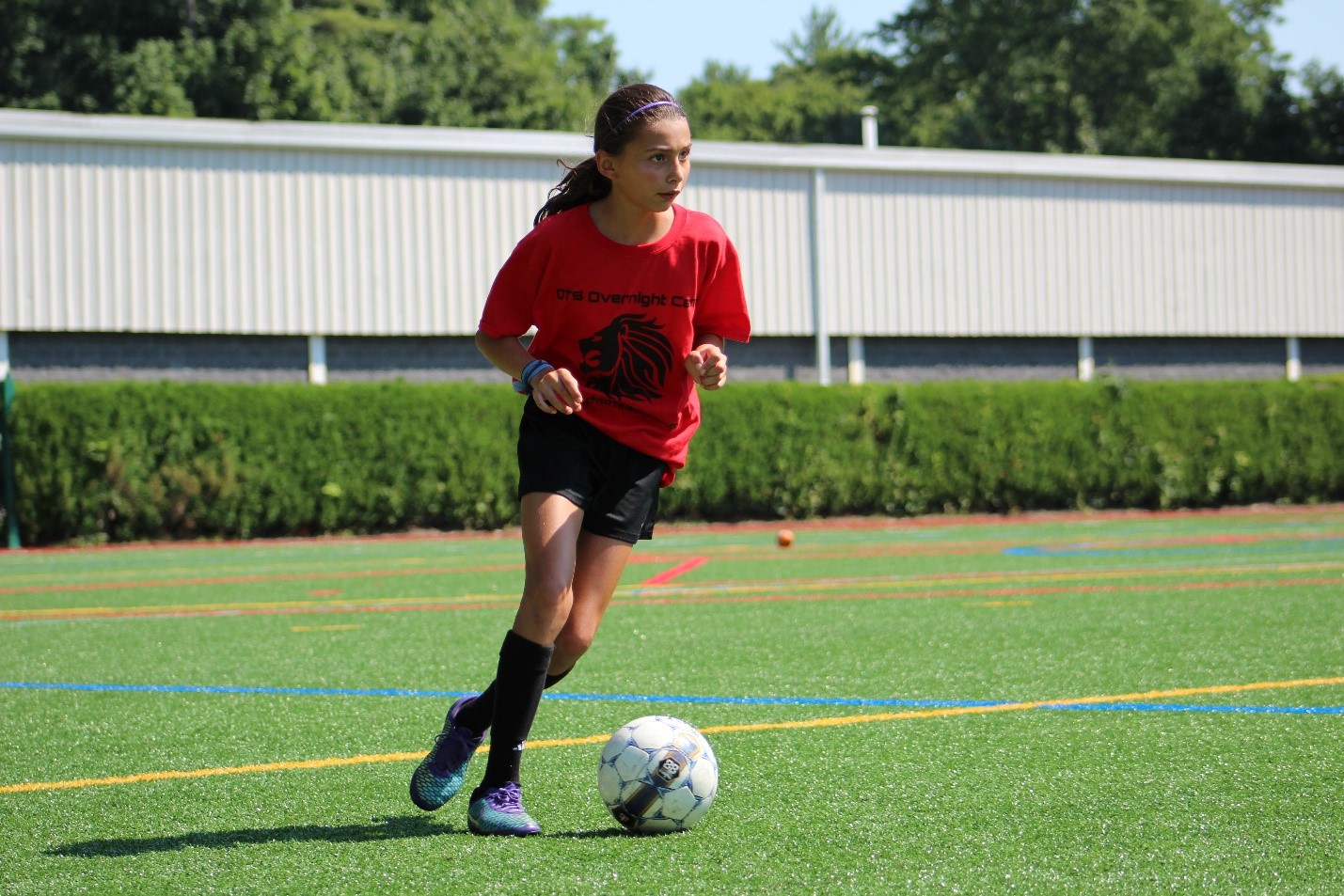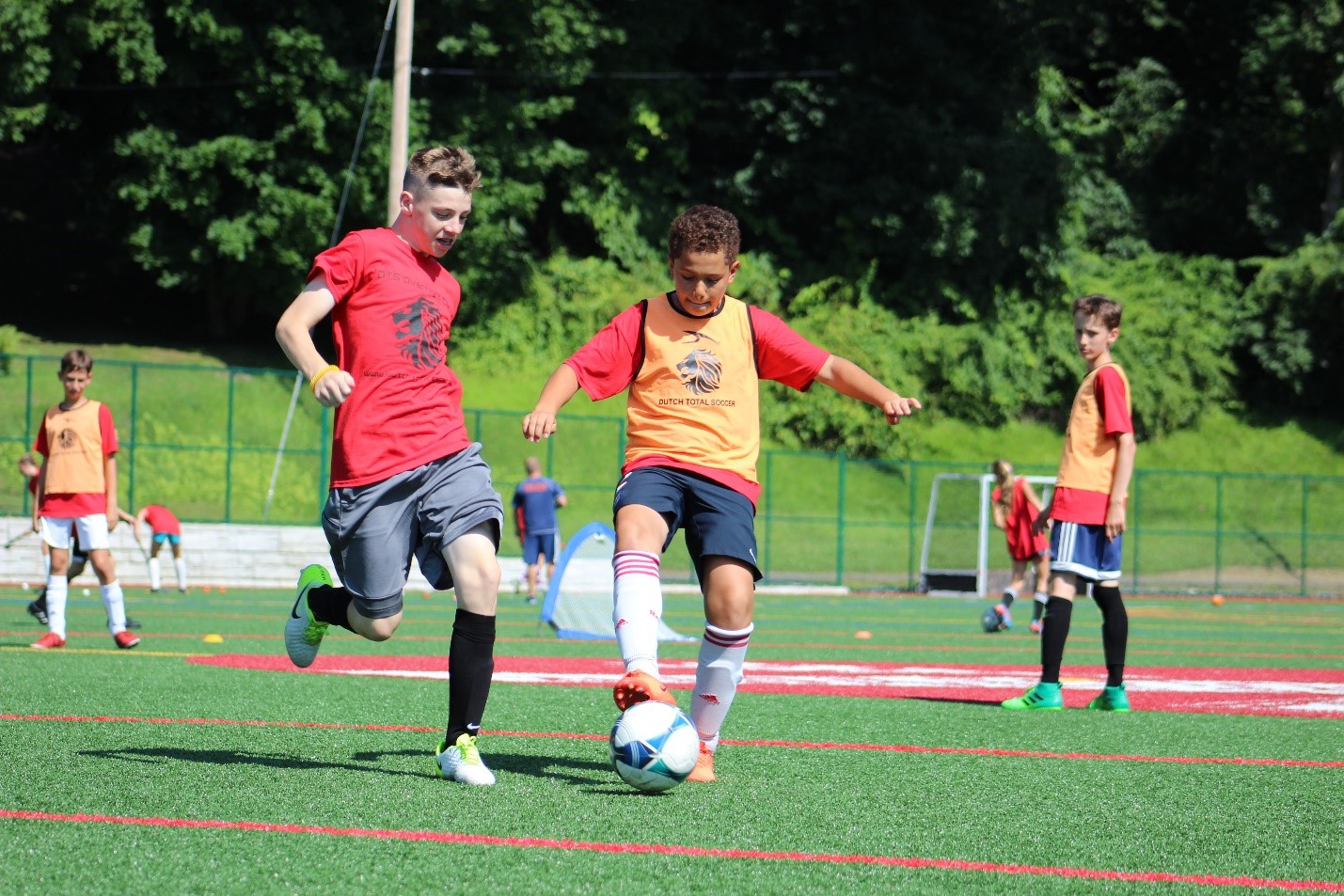 Towards the end of the morning session it started to get hotter and the campers were losing their energy, but they thrived through the session and then went for lunch. For lunch today there was two types of pasta, one with red sauce and another with white sauce with vegetables and chicken in it. There was also garlic bread, cauliflower, salad bar, and fruit. The campers than got to return to the dorms for some downtime. They spent the time relaxing and hanging out with their new friends. There was a lot of games being played, laughter, and socializing. We made sure everyone was relaxing because it was definitely a hot day. Afterwards, they went back out to the field for their afternoon session.  Campers focused on defensive work with a partner, shooting and crossing, and big scrimmaging. Each coach had their own shooting drill and you can see the campers really enjoyed shooting on goal. Some groups had competitions between each other and no one was backing down. They were enthusiastic, worked hard, and pushed through the heat.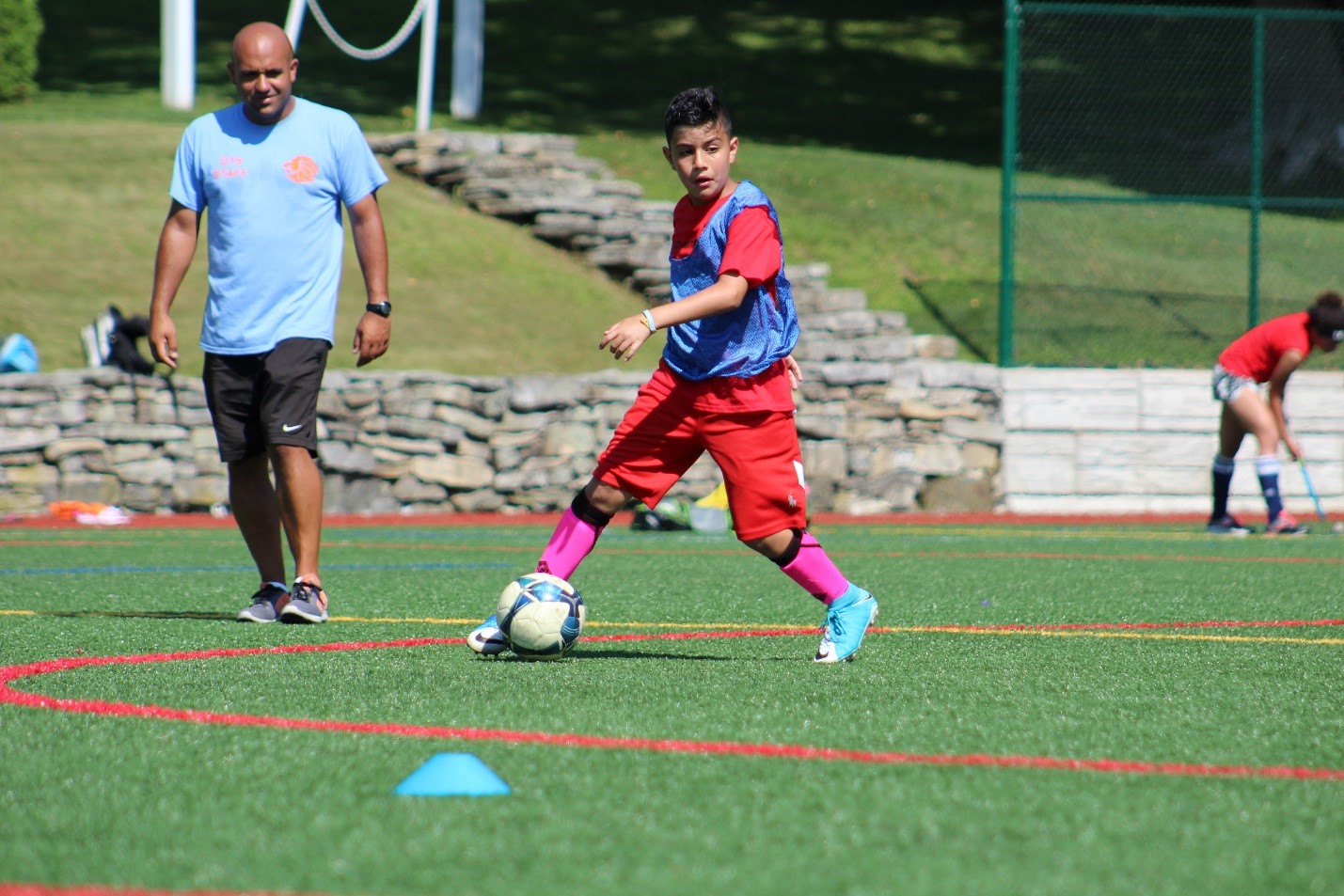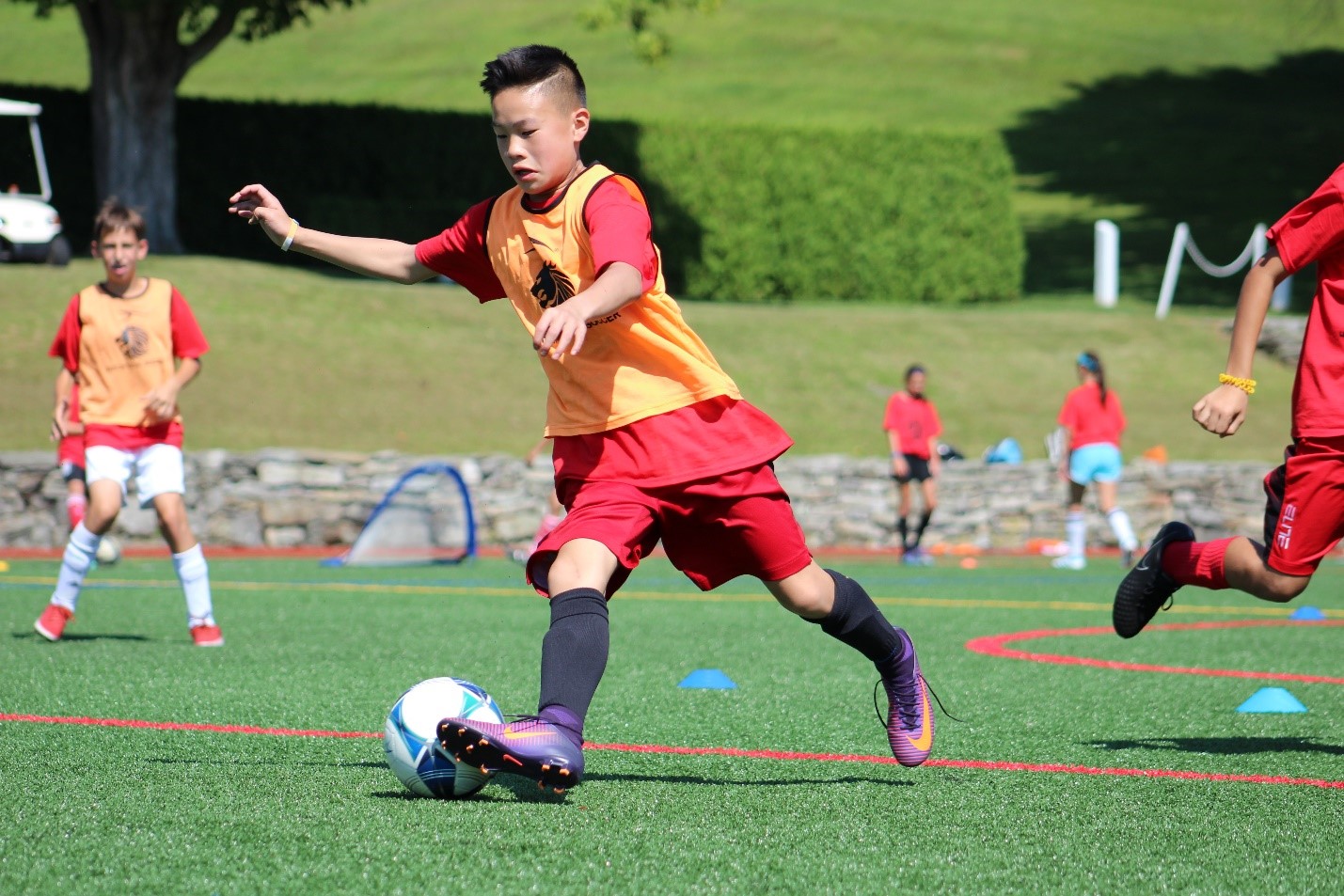 They went straight to dinner from the afternoon session. For dinner there was steak with pesto sauce, mashed potatoes, green beans, salad bar, and fruit. Campers got some time to relax in the cafeteria before they headed to the night session. For the night session campers did a bunch of scrimmages tournament style. Campers got really excited and competed to try to defeat each other. The night session went by so fast and they were asking for one more game. After they had one more game, everyone headed back to their dorms to shower and once again everyone went to the lounge where they could play pool, air hockey, and hang out with everyone from camp. Today was a great day and tomorrow is our half way point through camp! The rest of the week is going to fly by and we are excited to make it as fun as possible!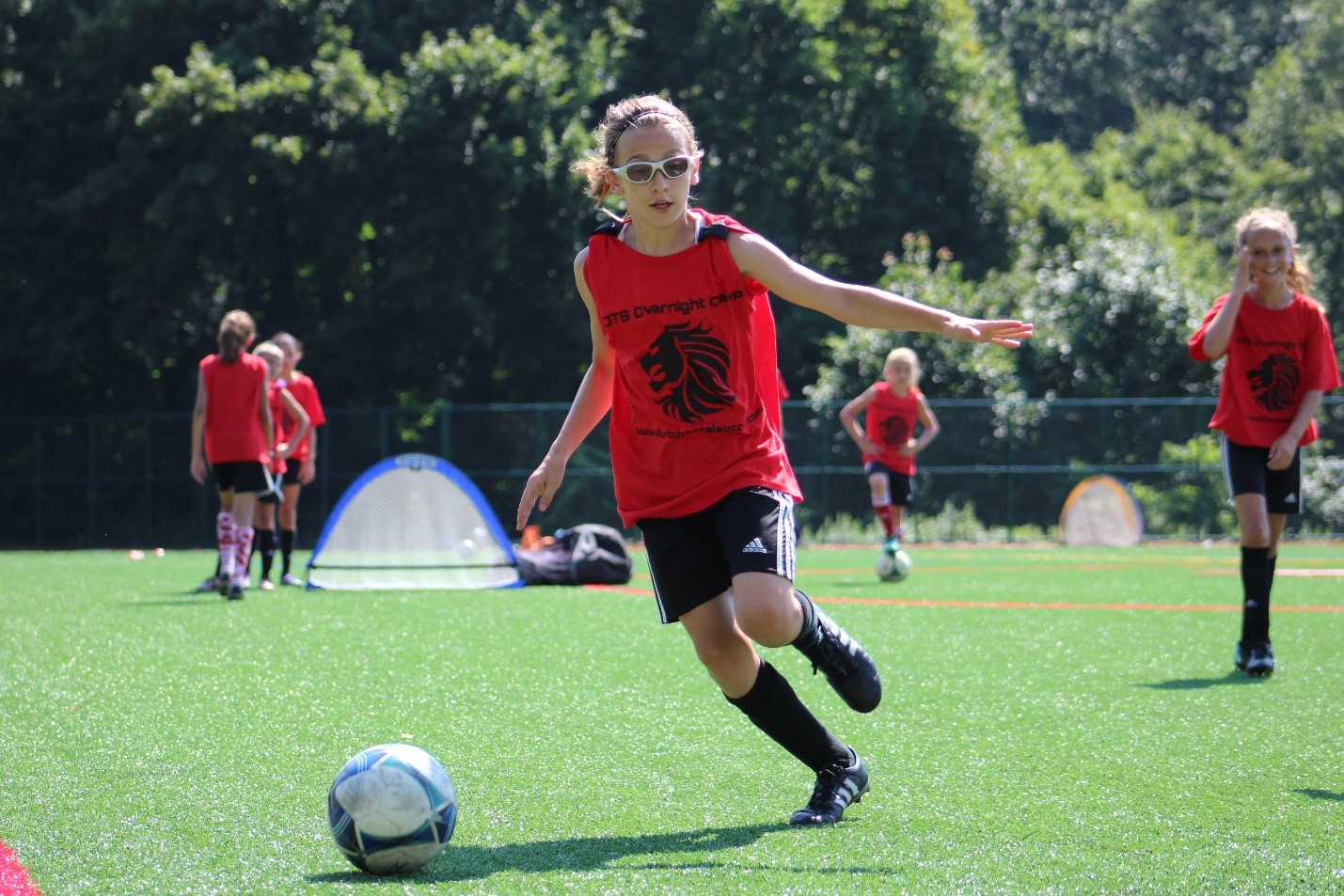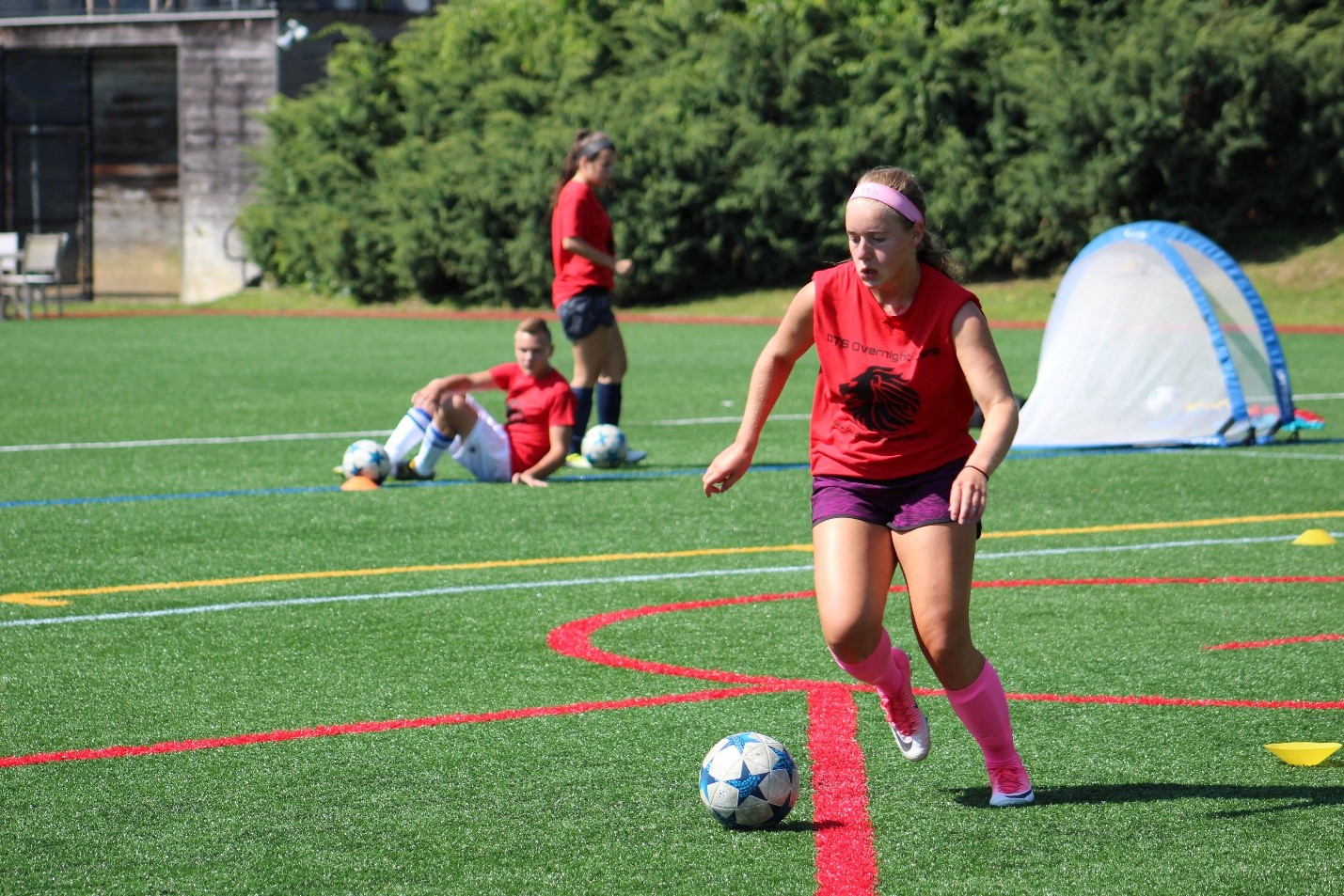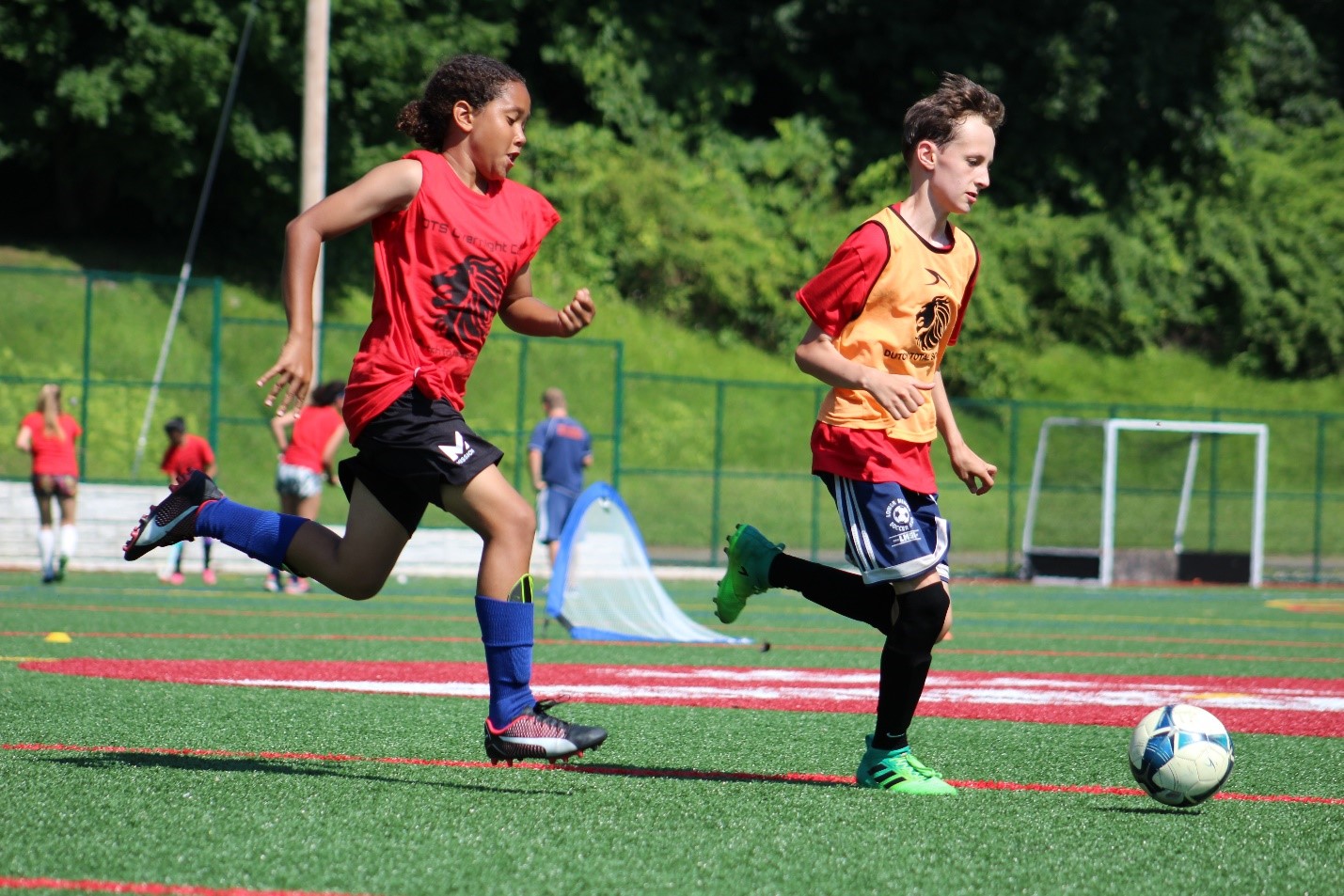 Wednesday August 2nd
Today everyone was able to sleep in until  7:15am, which was very exciting for all. Breakfast today included french toast, eggs, sausage, potatoes, fruit, scones, and crumb cakes. Everyone has been doing a great job so our counselors set up speakers for everyone to listen to music while we trained. Campers worked on side moves, juggling, 3 v 2, and shooting drills. The last two moves campers have learned passing moves and backwards moves, so if they can't go forward or backwards than they can go left or right. After they learned some side moves they went into scrimmages like 3 v 2 that forced them to go left and right to beat the defenders. To make it more difficult, we add rules like switching the field in order able to score.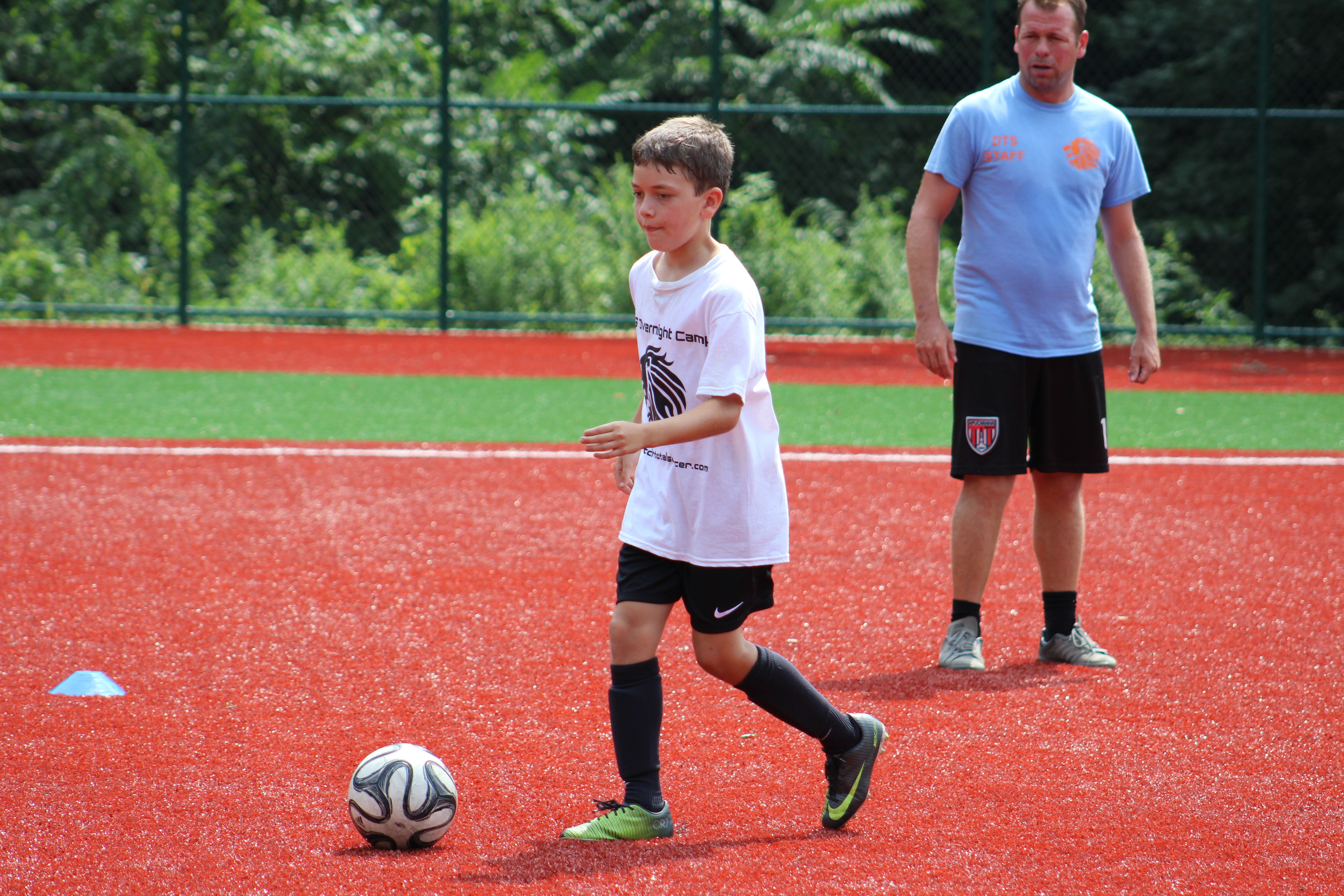 Today was another hot day, so campers were ready for lunch after the morning session. They headed to the dining hall for some chicken nuggets, BBQ chicken, french fries, corn, salad bar, sandwiches, fruit, and bagels. Afterwards, campers headed back to the dorms to for some downtime, but we were greeted with some thunder so that extended our day time a bit. Due to the weather, we trained indoors for the afternoon session utilizing the gym for futsal training. Some groups also worked on their skit nights, which will be Thursday evening.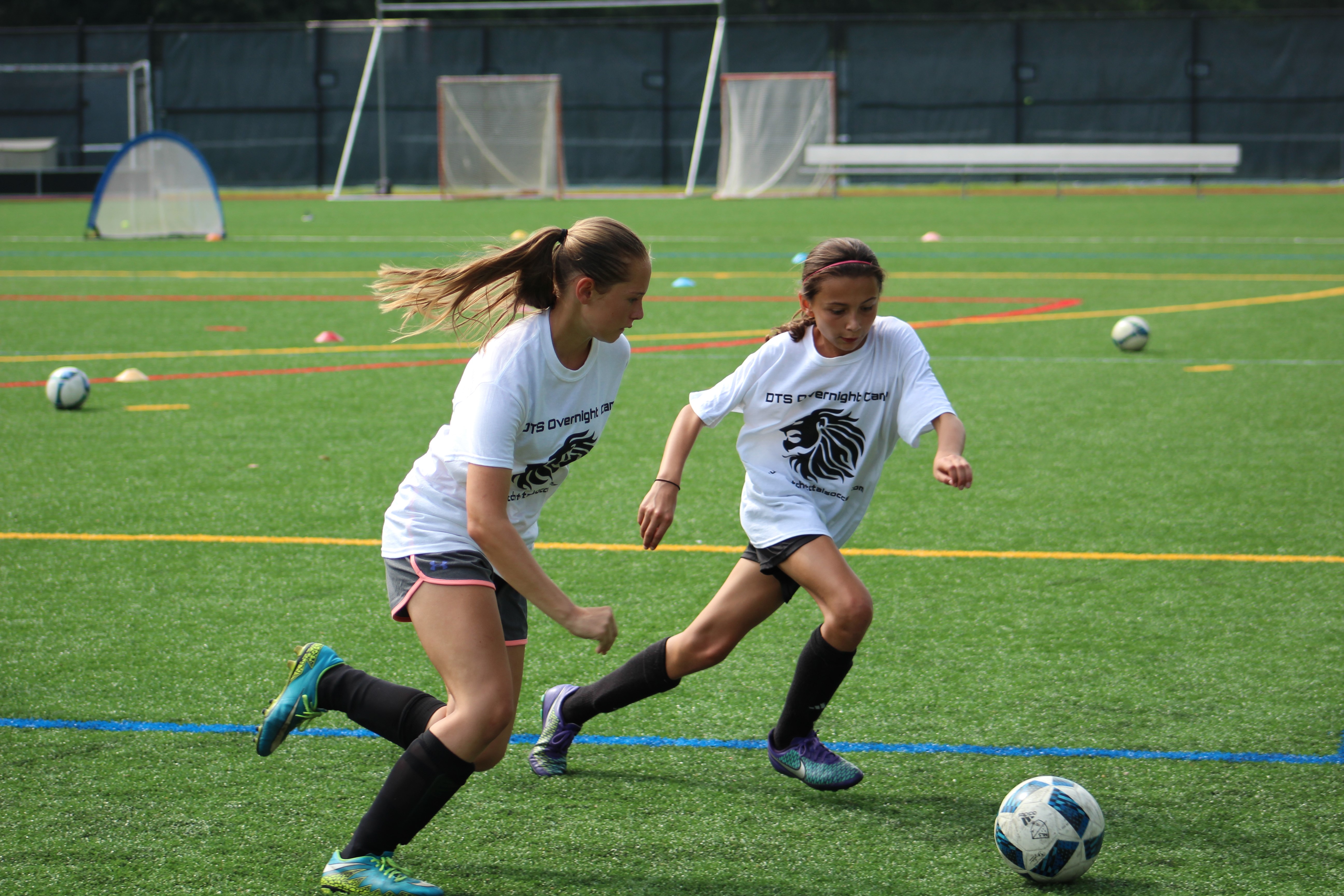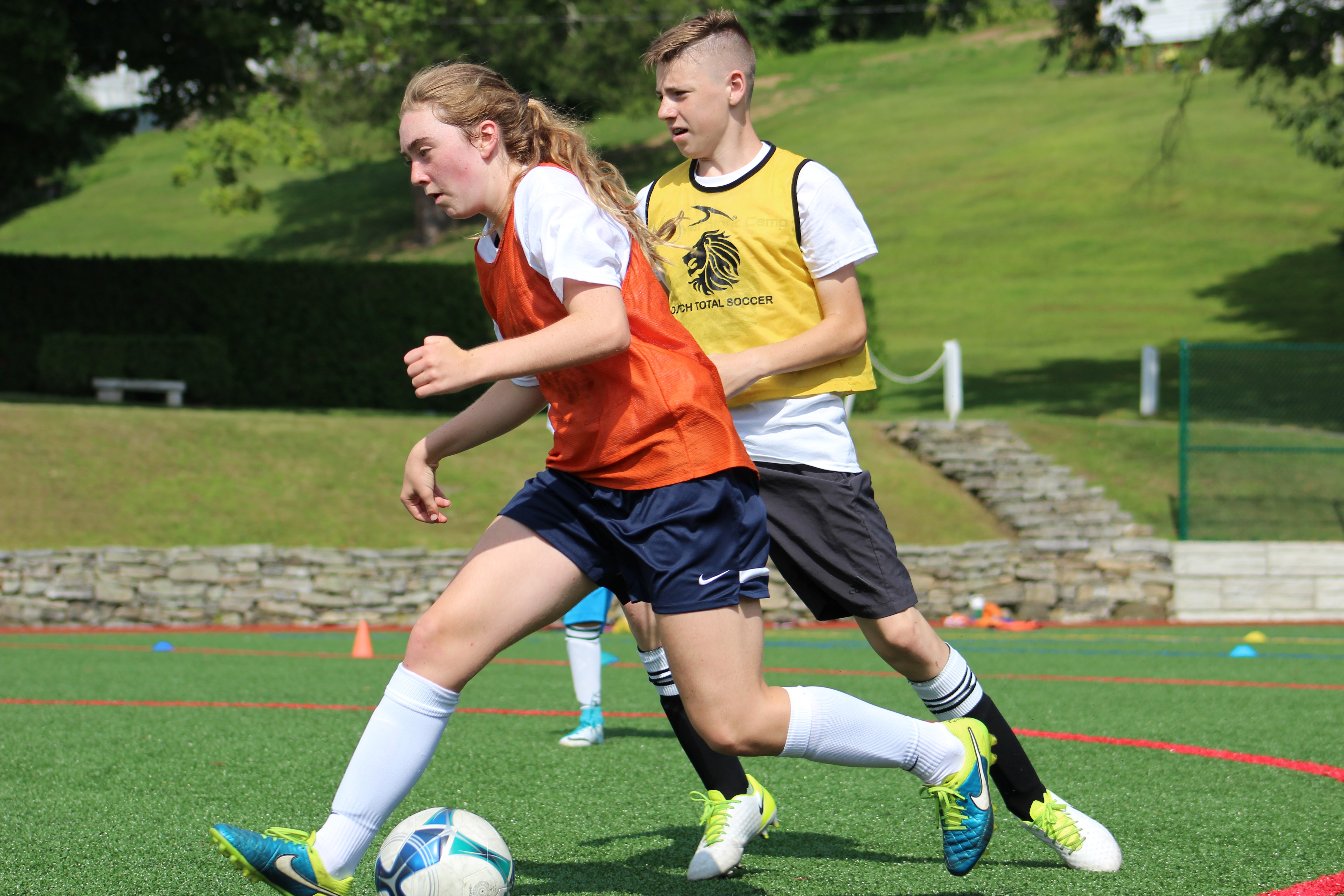 For dinner there was chicken with mango pineapple salsa on the side, green beans, snap peas, rice and beans, salad bar, fruit, and desert. For desert they could either have jello, a cookie, brownie, or a cheesecake parfait. In the evenings, groups work through a variety of different stations which offer a variety of different drills and training. After an easier afternoon, we pushed everyone to work their hardest.  After the night session the campers went back and showered and everyone relaxed in their rooms. Even with thunderstorms, nothing could rain on our parade. Today was a great day and everyone is looking forward to tomorrow, which is our last full day of camp!