Hi Parents!
Welcome to the blog for the DTS Overnight Camp at The Gunnery in Millbrook, NY! We will be using this blog to give parents, friends, and other family members an inside look as to what players are doing throughout the week. We're confident your players will have a great time and learn a lot! We will be posting a few photos here on our blog. To view even more photos from camp, check out our Facebook & Instagram.
Sunday August 6th
Today was our first day of camp here at the Millbrook School! We had a great Check In and everyone was incredibly patient and helpful throughout the process. Once everyone was unpacked and ready to go, we met at our Central Meeting Point to start up the program. Players broke into small groups to scrimmages so that coaches can see everyone's ability level and group players together accordingly. We want to make sure that player's are in the right spot for their skill level. Once the first session is over, it was time for dinner. The Millbrook School has spent the last two years renovating their dining hall, and it definitely paid off! The space is very large with lots of windows to add a lot of light. Before we ate, staff went over their expectations for the upcoming week. We ask players to say please and thank you to the staff, to eat their vegetables and fruit and to be friendly and welcoming to their teammates. The dining staff was very helpful and explained to players what is compost and what is considered trash. Everyone had a great meal and we were excited for the upcoming session.
Before we jumped back on the field, we had a fire drill just to make sure we knew what we were doing. Each building's alarm went off individually and players were evacuated and all met at the central meeting point. Once that finished, we were ready to start the session. In tonight's evening session, we worked on dribbling, movies, passing and eventually small sided scrimmages. We had really great weather and that really helped players to push themselves tonight. Once the session was finished, we had some downtime. Millbrook has a building called "The Barn" where the campers go for their afternoon downtime. They can play ping pong or pool, buy snacks, or just hang out with their new friends that they made. It was a great start to the first day and we look forward to tomorrow. We have Soccer Aerobics bright and early so we will soon find out who is a morning person and who is not!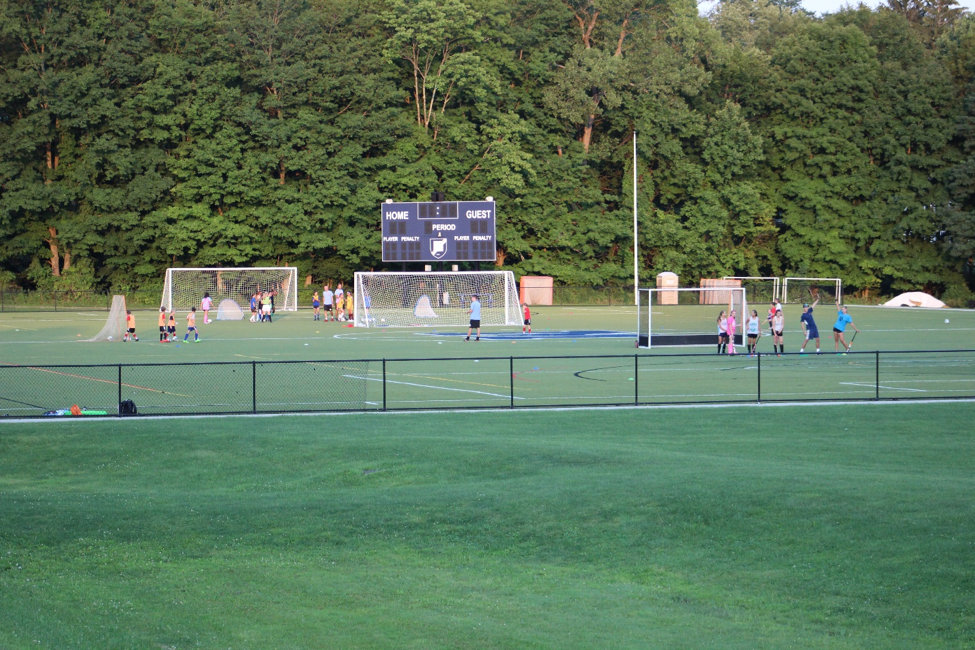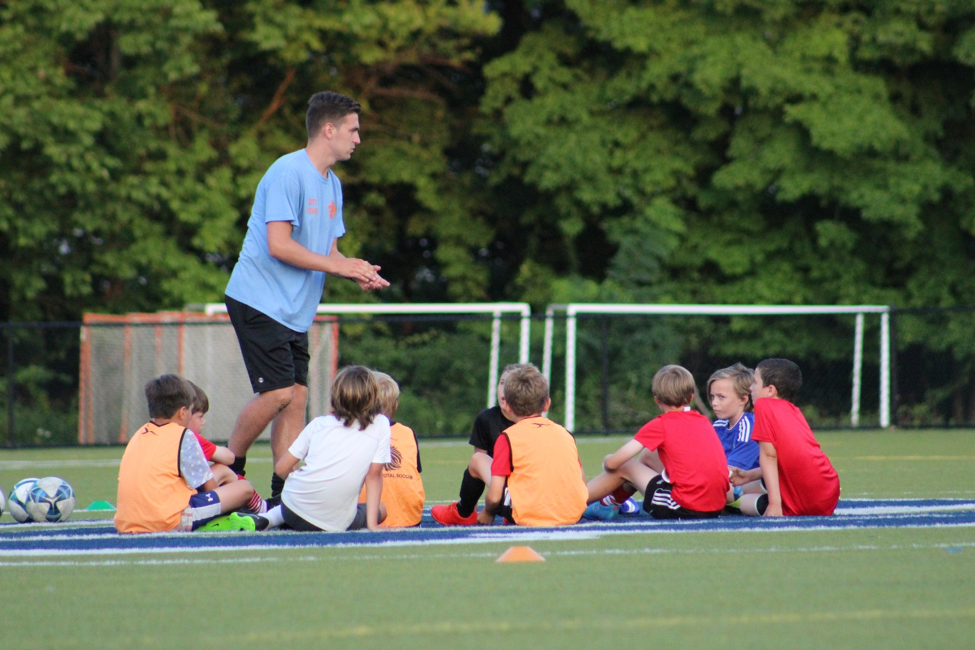 Monday August 7th
Today the campers started their day bright and early at 6:45am for soccer aerobics. They woke up, put their orange t-shirts and sneakers, on and took a jog to the field. Once they were at the field, the trainers kept them moving to make sure they were wide awake and ready to start their day. Campers had about a half an hour of soccer aerobics and then headed to breakfast. At breakfast there was pancakes, sausage, eggs, hash browns, yogurt, fruit, and bagels. Everyone sat and enjoyed their breakfast and then we went to the dorms to grab their gear, and hit the fields. For the morning session, campers worked on passing moves. Passing moves are moves players can use to go forward. Once they learned and practiced some of their moves, they then applied it to a 1 v. 1 situation. They also did some passing involving gives and go's and also applied them to various sized scrimmages.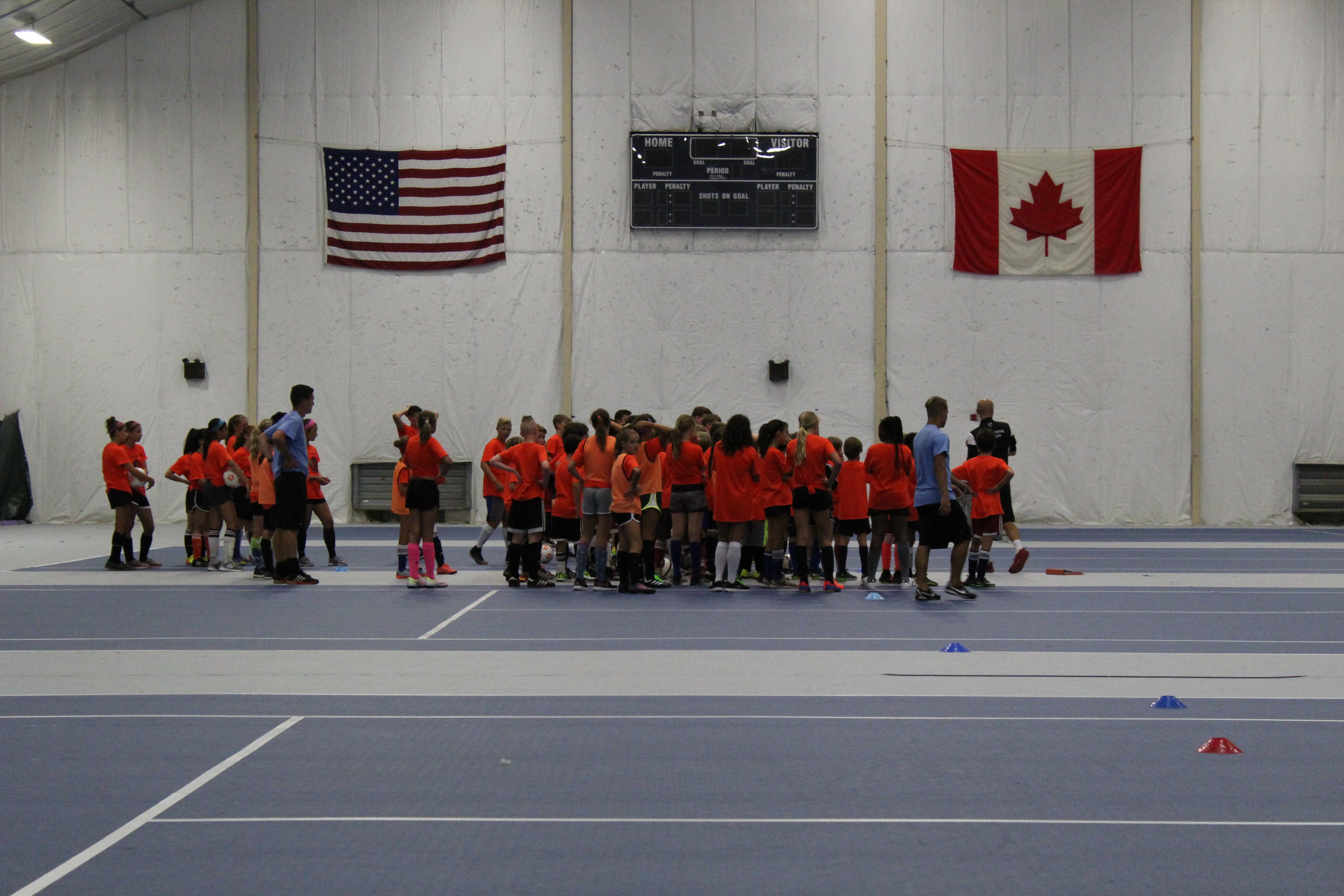 Once the morning session, was over they headed to lunch where they had chicken fingers, broccoli, salad, spaghetti, carrots and green beans, and cantaloupe. And after lunch they headed back to the dorms for some downtime where they spent time playing cards, relaxing, or watching TV. A girls team even had organized a Soccer Santa where they brought soccer related gifts to give to their teammates. Campers had an hour of downtime and then went back out onto the field for their afternoon session. In the afternoon session, it started to rain so everyone went to the indoor gym space that Millbrook provides. We set up various stations for campers to rotate through on the indoor tennis courts and gym. The first station focused on speed and agility, the second station was juggling, the third was soccer tennis, the fourth station was a dribbling station, and the final station was a passing station. The campers had fun time rotating in between the stations and getting to work with the other coaches.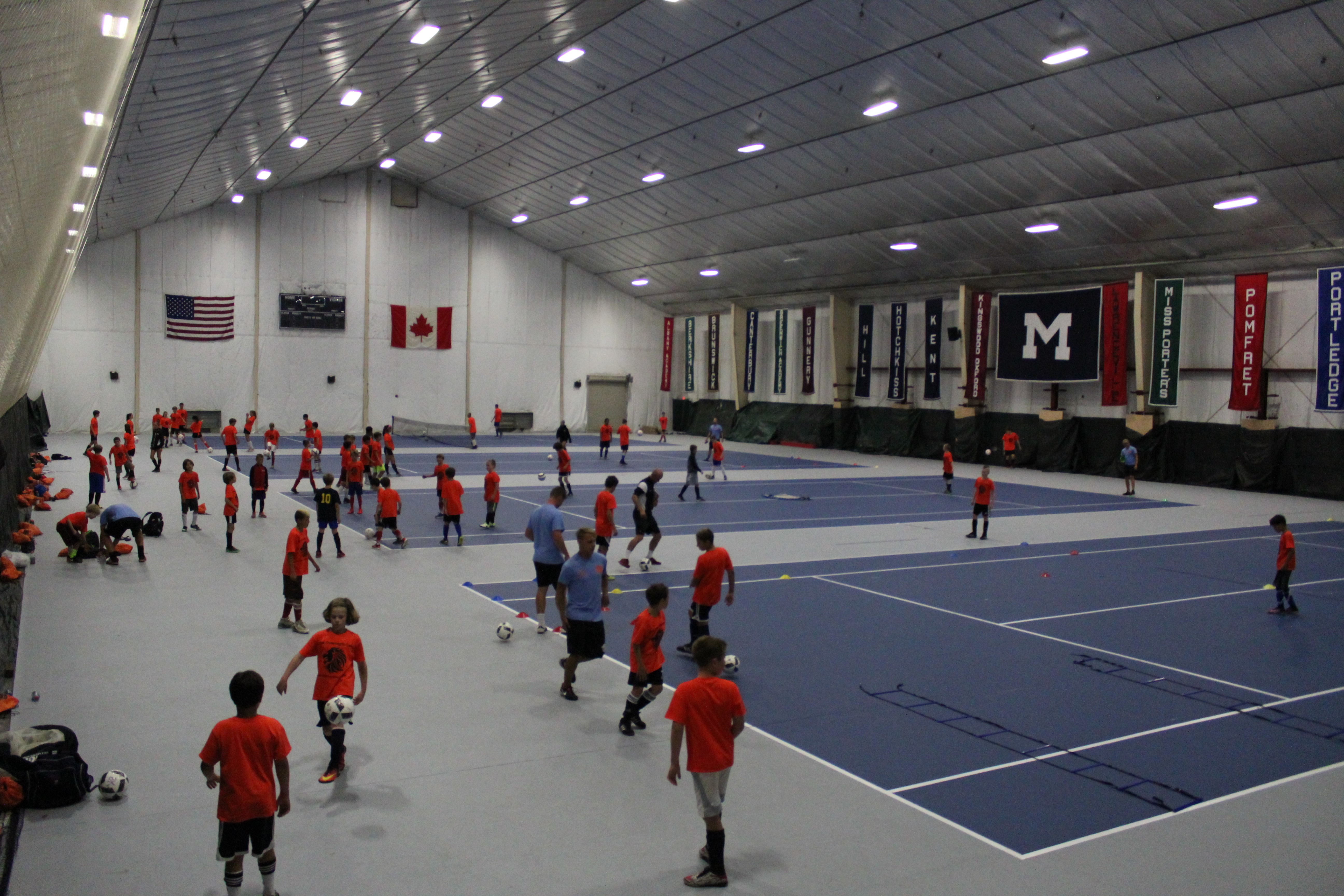 Next, campers went to dinner where there was penne vodka, zucchini, fries, hamburgers, hot dogs, and salad. They got some down time after dinner and went back onto the field shortly after. For the night session, campers returned to the turf and grass field where they did an eight verses eight tournament within their age range. The coaches joined groups together of similar age and divided the campers up to make equal teams. Afterwards, the coaches picked one team and versed each other for the night session. The games were very competitive between the coaches and players. The players were put in different positions and pushed to do their best. It was very exciting to watch and among the competiveness you could see all the fun the campers were having. The night session eventually came to a close and campers went back to the dorms to shower and to have some downtime. Some campers opted to the barn where they could get milkshakes, hang out with friends, and call their parents because the barn has some pretty good service. Campers returned to their rooms where it was lights out at 10:00. We hope for some great weather tomorrow!
Tuesday August 8th
Campers woke up bright and early once again for soccer aerobics. They took a nice jog down to the fields again and did a quick work out to get their blood flowing.  After soccer aerobics, campers went to breakfast where there was french toast, potatos, sausage, eggs with cheese and bacon, fruit, yogurt, cereal, and apple cinnamon scones & buns. Campers got some downtime after breakfast and then hit the fields for their morning session. In the morning session they worked on back moves, passing, and scrimmaging. Usually if a player can't go forward in a game they can go backwards. During this session, we focused on moves to help players move the ball backwards to go forwards. We then applied these moves to a live situation in the scrimmages or other pressured situations. It was really nice morning session all around. The weather was cool, the campers had high energy, and everyone had fun.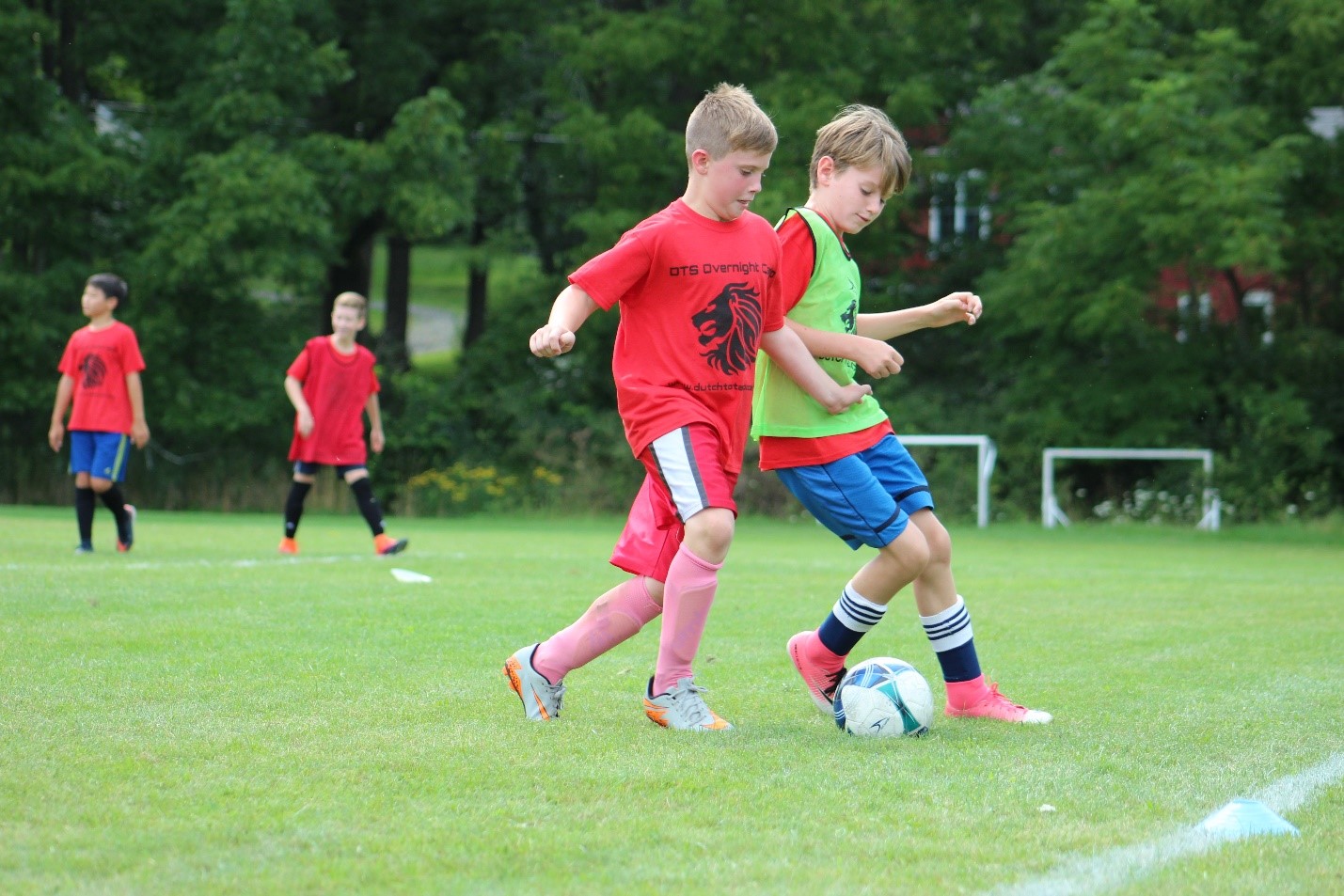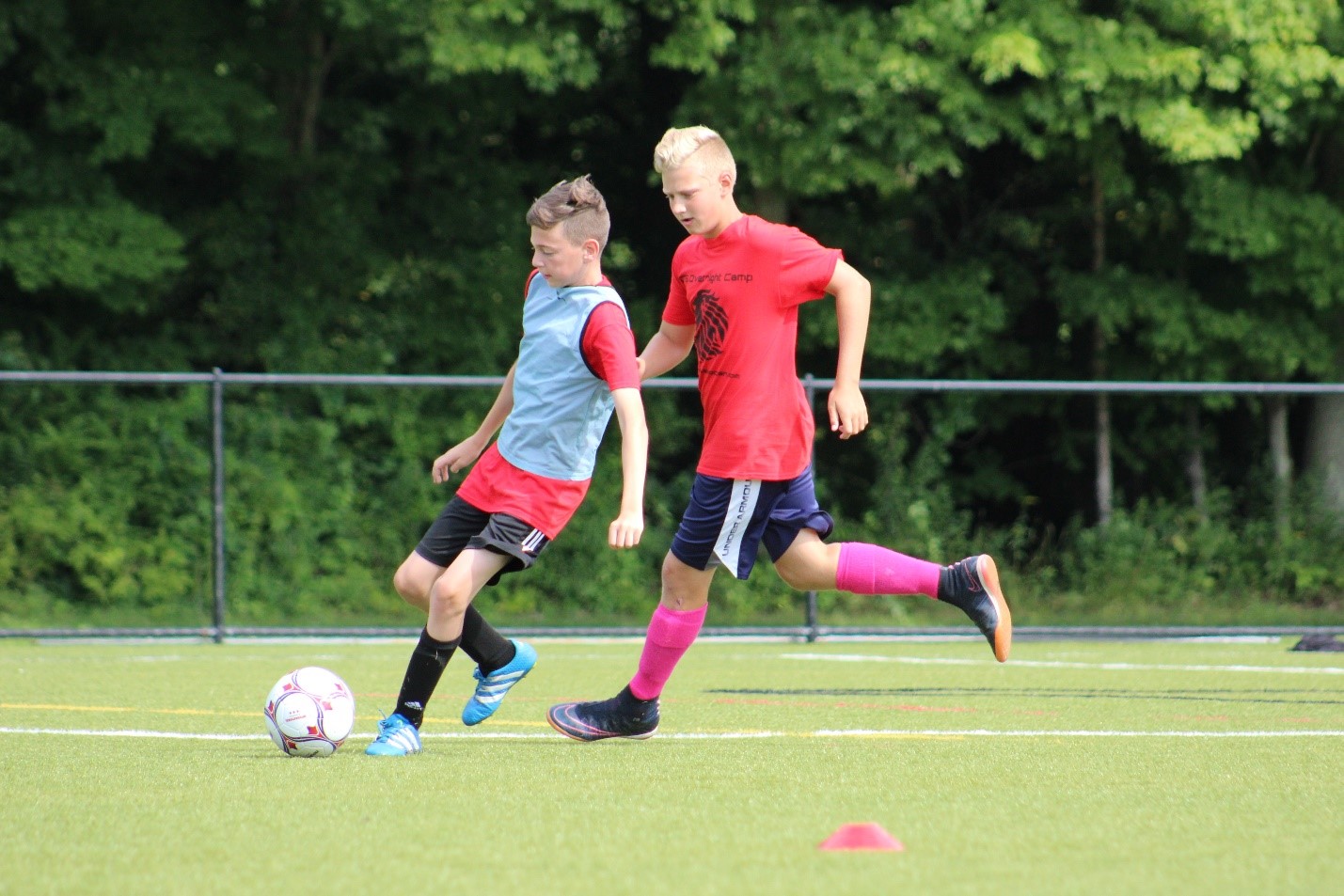 For lunch today we had hamburgers and hotdogs, gyros, caesar salad, bananas, salad bar, and chocolate cake for desert. Campers loaded up their plates with vegetables and fruits and drank a lot of water. In particular, Coach Rinus's group made sure everyone had at least two giant cups of water before lunch ended. Campers finished lunch pretty quickly and then enjoyed some downtime to rest up for their next session. After down time, we headed to the fields. In the afternoon the campers were set up into two groups. The first group would go to the zoo and work on their skit night and the other group would be on the field. Tomorrow for the afternoon session, they would switch so the campers who went to the zoo would have a training session and the girls who had a training session would go to the zoo! The campers worked on, defensive techniques, shooting drills, and 4 v. 3 towards goal. Campers learn a lot of moves to beat players and keep the ball but they also have to learn how to get the ball in the first place. They worked on defending to be able to keep attackers from scoring and how to win the ball back. With these drills they also worked on shooting and did some 4 v. 3 scrimmaging that made them focus on going to goal.
When the afternoon session was over they went to dinner. For dinner there was baked ziti, Thai noodles, pizza, salad bar, and peas. When campers where all done eating, they headed back to the dorms for down time. They had about 30 minutes of down time to digest, use the restroom, and grab their stuff for the night session. The night session all the groups once again combined together and then divided to create an 8 v. 8 tournament. The kids really have enjoyed joining other players to play and the games have been super competitive. All the players put all their energy into these games to be the winners of the tournament. It was all very exciting but it most all eventually come to an end. The campers headed back to the dorms for showers and downtime. Once again the campers also had the opportunity to go to the barn for downtime or stay in their rooms. We can't believe we are already halfway throught the week!