Hi Parents!
Welcome to blog for the first Overnight Camp of the 2017 Summer season – at the Peddie School in Hightstown, NJ! We will be using this blog to give updates on what we're up to at camp this week. We know that your players are going to have a really great time and will definitely learn a lot. This week our Camp Director is Greg and our soccer coaches are Coach Wessel, Coach Tom W., Coach Aaron, Coach Jose, and Coach Martin. Coach Brett and Coach Izaak are our Field Hockey coaches. You have also met our wonderful counselors and Health Director. We will be posting a few photos from camp here on our blog. To view even more photos from camp, check out our Facebook & Instagram!
Sunday June 25th
Today is the first day of our Overnight Camp! We held our Check In where all players will meet multiple times a day throughout the week – we call it our Central Meeting Point. This is where we gather everyone before sessions to make sure everyone is accounted for and has their proper equipment such as sunscreen, cleats, shinguards, and lots of water! Players were met at Check In and headed to their respective rooms where we had laid out their bags and T-Shirts for the rest of the week. We appreciate your patience and help throughout the check in process. It is always a chaotic day for us but we felt it went very well!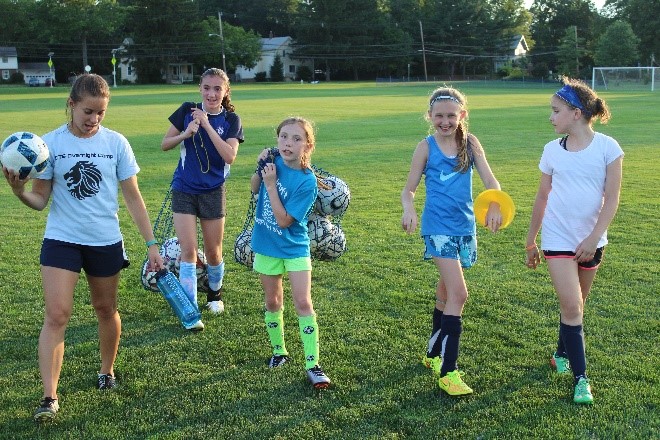 After Check In, Coaches took the campers throughout a tour of the campus to show them where everything is located. From there, we went to the dining hall to have our first meal together! We kept a close eye on players during meal times and everyone was eating very healthy. It's important to DTS that players eat balanced meals and are drinking a lot of fluids. In order for them to get the most out of camp, be comfortable, and havepositiveenergy, we make sure that they are fueling their bodies well! Once dinner was over, it was time to scrimmage! This helps coaches get an idea for each player's individual skills and where they should be placed amongst the groups. Scrimmages flew by and went very well!
The whole group did a warm up to get their legs going and get some touches on the ball before they started to scrimmage. There was different size scrimmaging like 3 v. 3, 4 v. 4, and 5 v. 5 within their groups. There was a lot of energy, fun, and competition among the campers. After they scrimmaged, the coaches organized some bonding sessions to help everyone get to know each other. Each coach picked a different game for their group which worked on them getting really know the names of their group members among various other facts. You could hear loud laughter and see big smiles across kids' faces wherever you went. Once our evening session ended, it was back to the dorm buildings for showers & down time.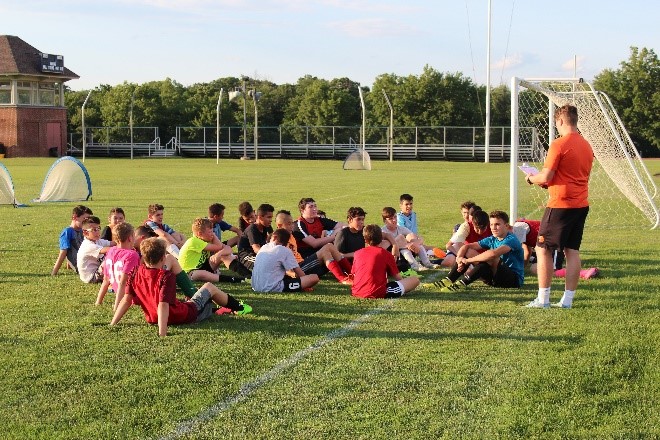 After our mandatory showers, players were allowed about an hour of downtime where they could call home, relax in the common rooms to watch TV or hang out in their rooms. It was a hectic day for all, so despite the excitement, everyone was ready for bed afterwards! We have a mandatory lights out at 10pm and once 11pm hits, our buildings are automatically alarmed so unless you use a special key you cannot leave without the alarm going off. We look forward to the rest of the week and we will keep you guys updated along the way!
Monday June 26th
Camp started bright and early today at 6:45! The players were woken and taken to the track to do some soccer aerobics. All the players and the coaches, had to shake out their legs and get ready for the fun filled, soccer packed day ahead of them. They blasted some tunes that got everyone energized. They finished soccer aerobics with a nice lap around the track where so of the players challenged the coaches in a race and of course the players beat them no problem. After their lap they headed to breakfast very excited and most definitely awake. For breakfast there was some eggs, fruit, potatoes, ham, toast, bagels, and cereal. Everyone would find something that they wanted and that would fuel them for the day ahead of them.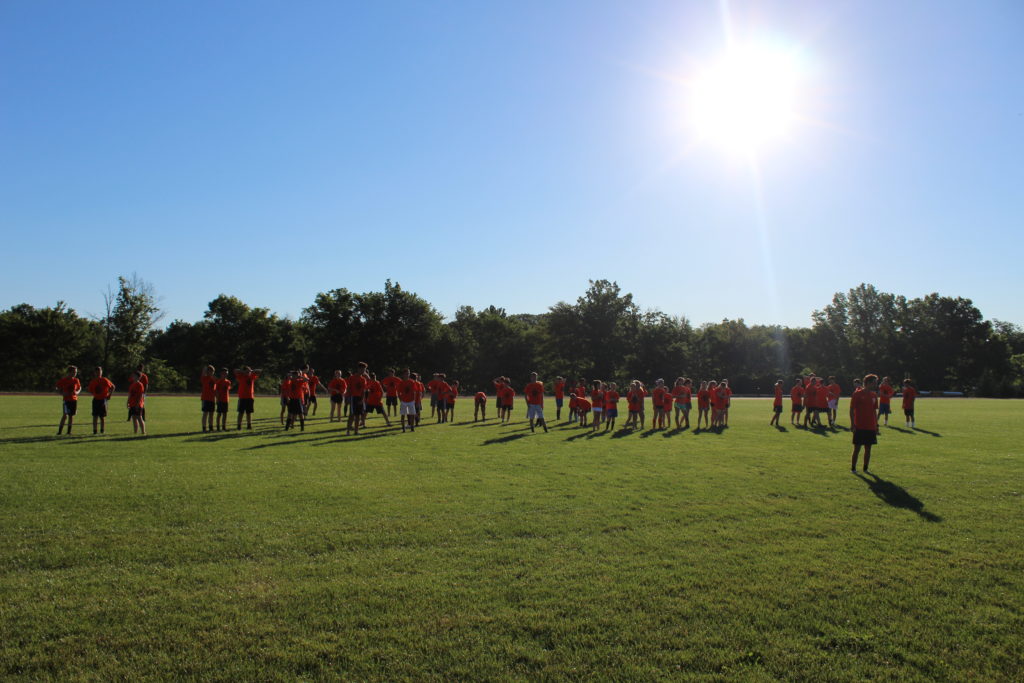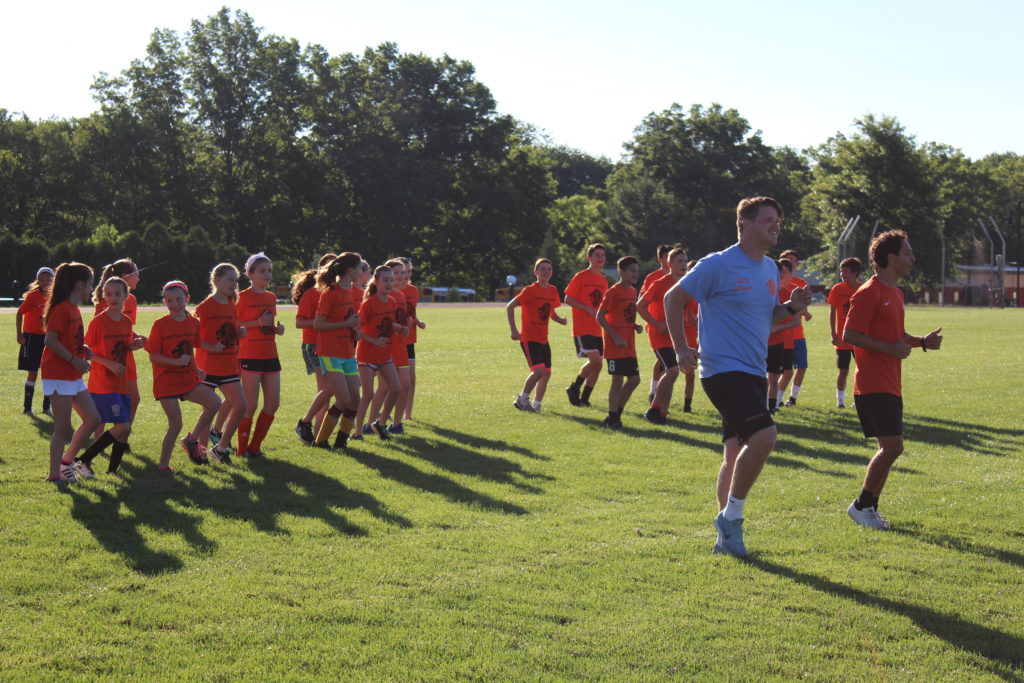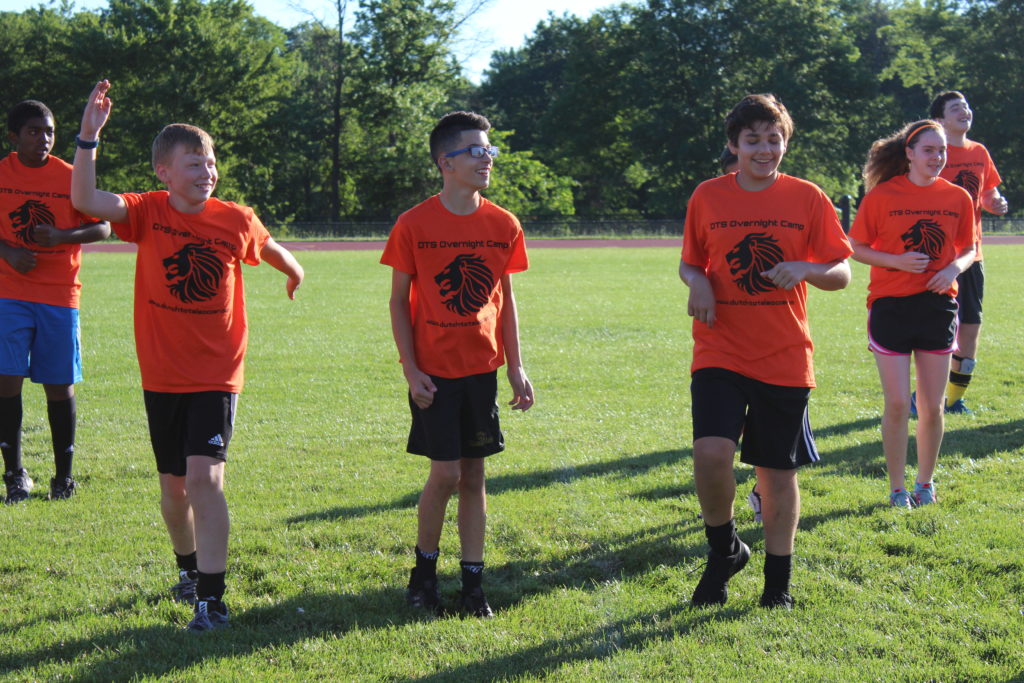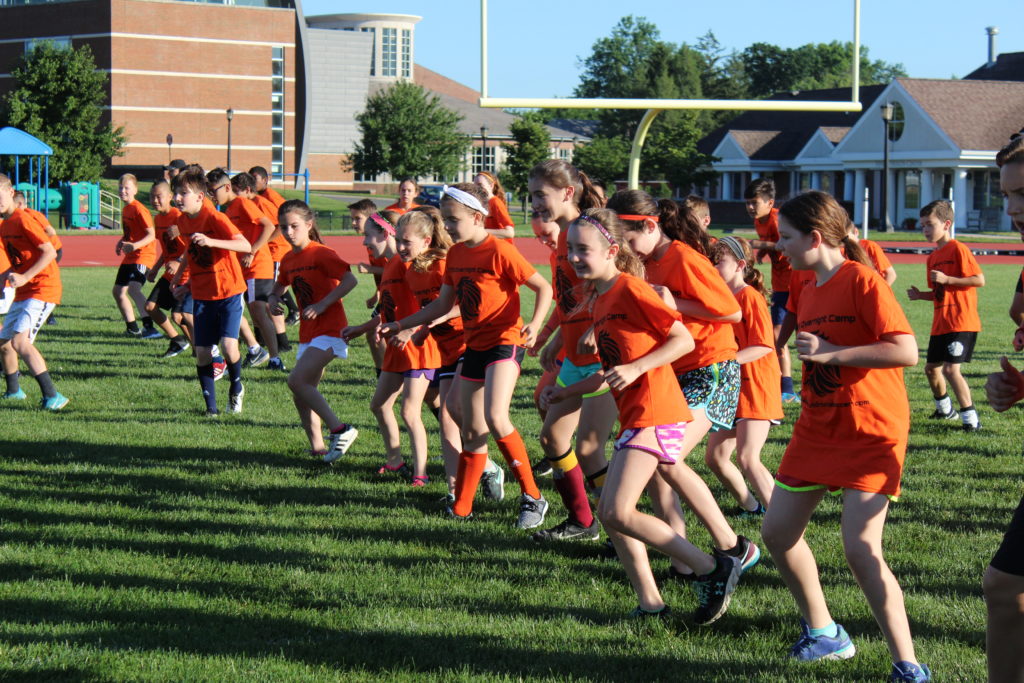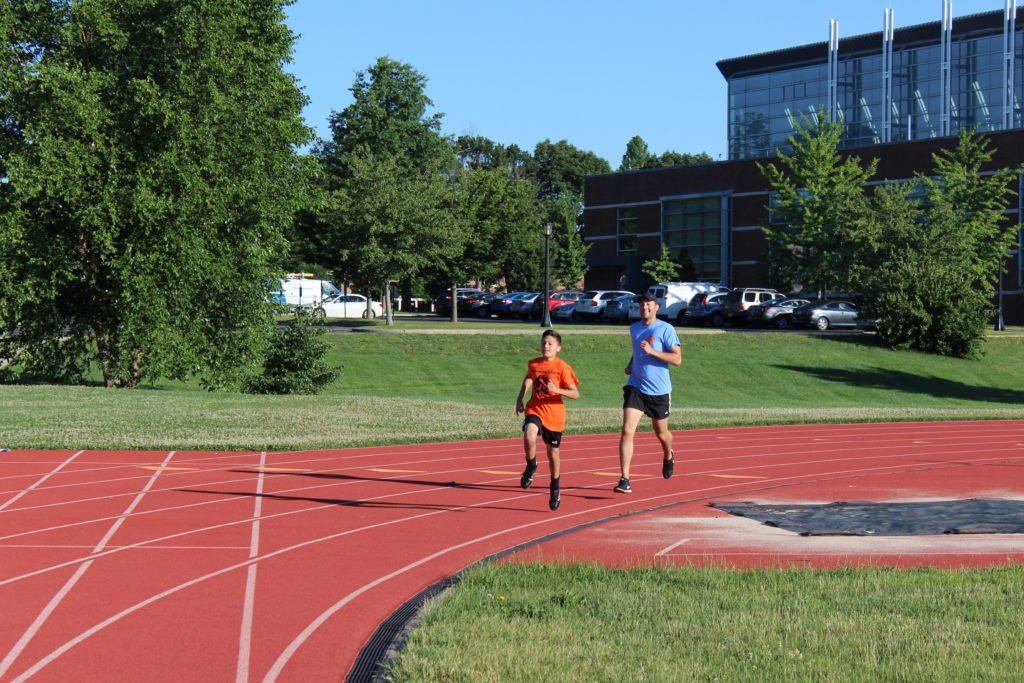 The first session the players worked on skills moves and some 1 on 1 tactics. The coaches today were trying to build the player and teach them individual techniques that could help benefit themselves and their teammates.  We work to build not only their skill set, but their confidence to use moves in situations to help them get past defenders. Campers and staff head to lunch where we focused on a balanced meal to prepare us for the day ahead. The campers made sure to replenish their bodies because they would have another long afternoon session ahead of them, but of course after some down time. The campers had an hour of downtime to relax in their rooms, socialize with some friends, relax their bodies –  there was some nail painting going on in the girls dorm!  In the afternoon session, players put their new found techniques to the test that they learned from the first session. There was small sided scrimmages and even two groups combined to full field scrimmage. The energy was high throughout the afternoon and we even had great weather! Of course, all the campers got plenty of water breaks and long water breaks so they could give 100% on the field when they were out there.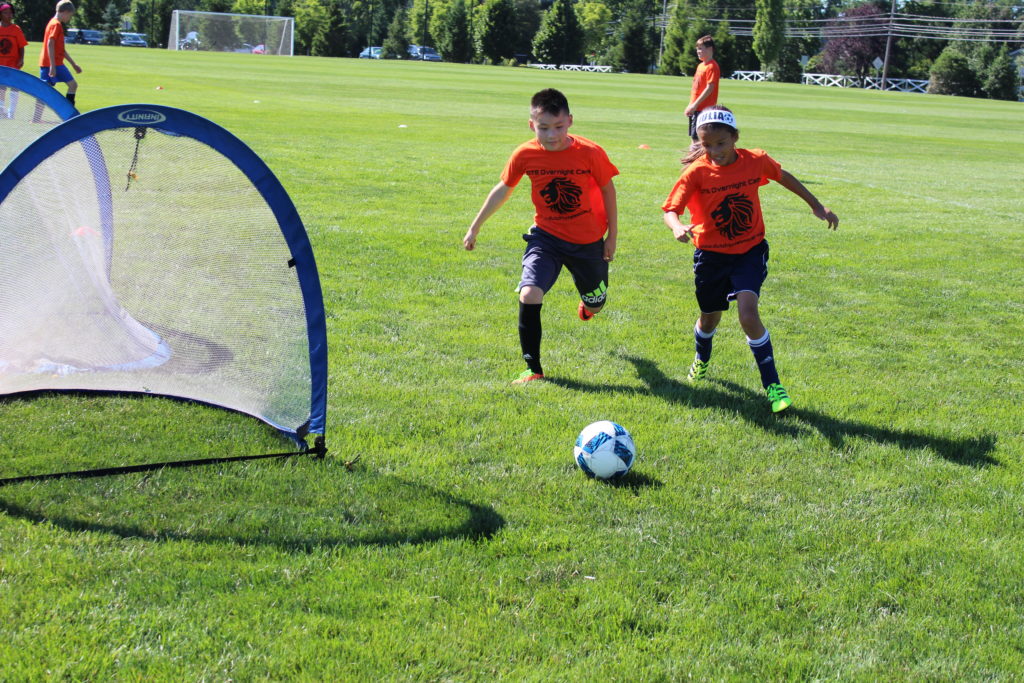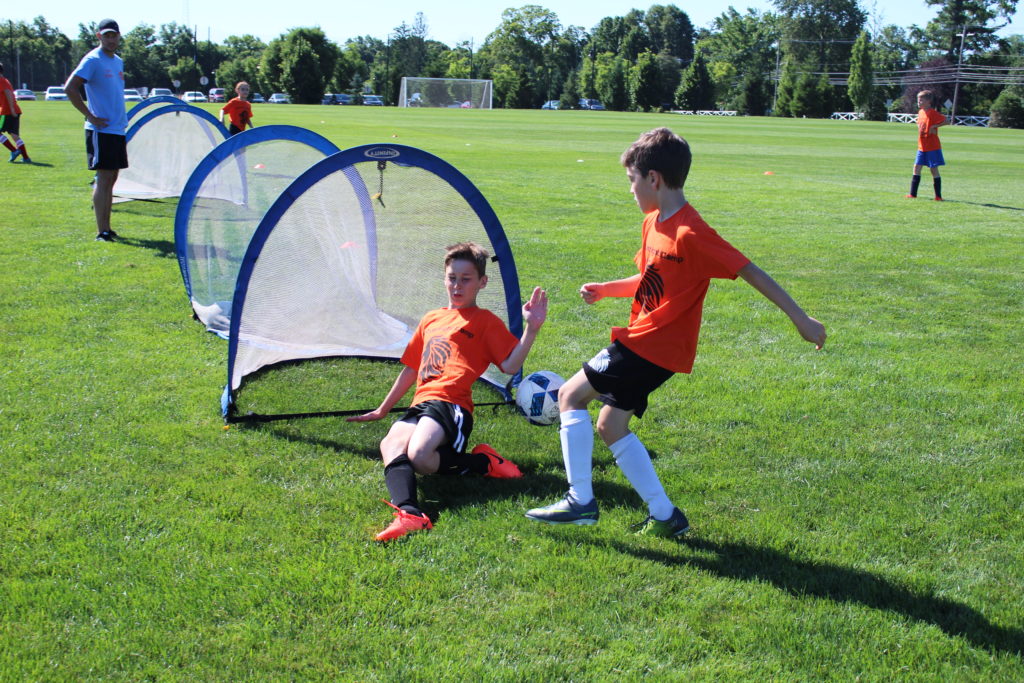 After the second training session, campers went to dinner where they had some spaghetti and meatballs, salad, yogurt, and salad amongst other options.  For the evening session they did a station rotation. After a full and challenging day of soccer, we make sure to incorporate some fun soccer games in the evening. Campers played soccer tennis, futsal, and used an indoor turf rink for a round robin tournament. All the campers had fun playing the different games and some even got to scrimmage against their coaches! After a long day of soccer, the players got to go to their dorm and shower and have some down time. They even had the option to go to the snack bar where they could get some not so healthy snacks but, trust me, they will burn it off tomorrow. So overall we didn't just survive the day, we thrived today!
Tuesday June 27th
Another day of soccer camp was a success! Today the campers got to sleep in an extra fifteen minutes before getting up and going to breakfast. They ate some French toast, eggs, hash browns, and tons of fruit. There was some fresh bananas for today, and as a camp we ate every single banana!  After breakfast. Campers than went to the fields for the morning session!  In the morning, we worked on shooting techniques and incorporated some games to make sure everyone was having fun. One of their favorite games is the cross-bar challenge. After we go through the proper techniques, campers have to then hit the cross bar on the goal from a certain distance. This helps them practice aim in a fun way. Another favorite is the distance games – players have to take a shot on goal and hit a target and once they succeed they have to hit it from further back. It's important to teach skills but also make sure we practice in a fun way!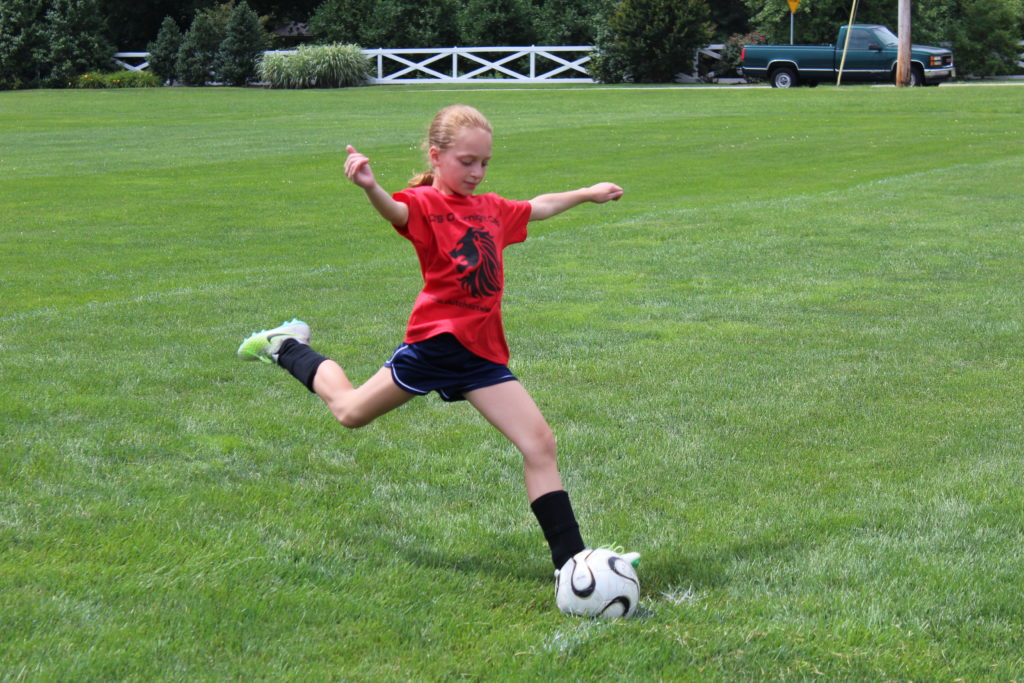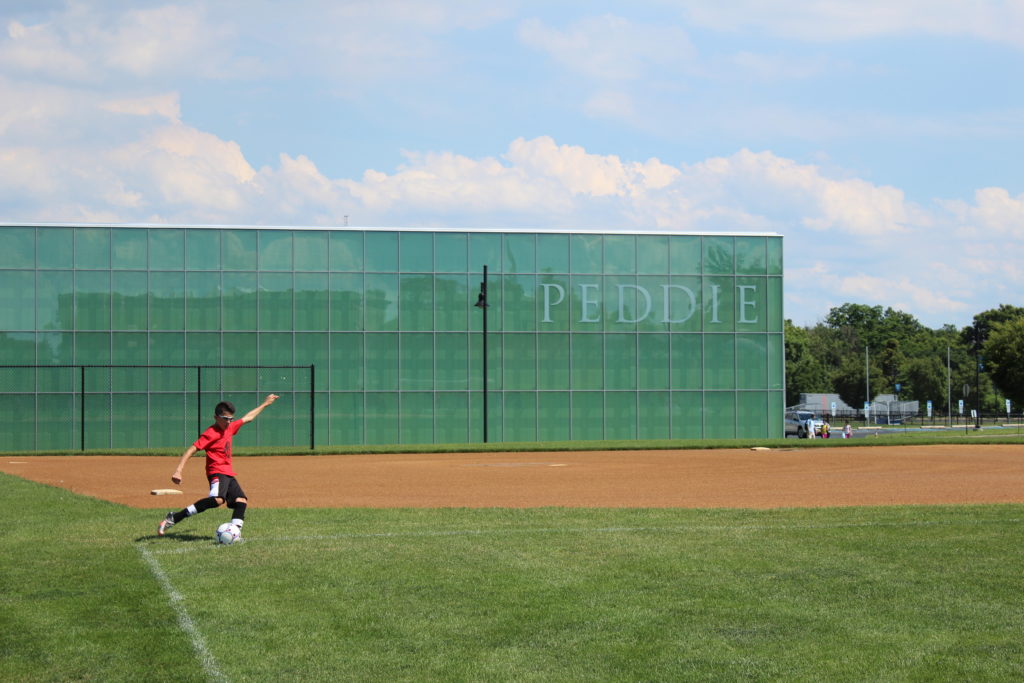 After the morning session, everyone worked up an appetite. We headed to lunch where there was hot dogs, pasta, potatoes, sandwiches, salads, fruit, carrots, and plenty of other healthy food to eat. The counselors made sure everyone was drinking to stay hydrated. The campers finished lunch early so they got an extra fifteen minutes added to their downtime after lunch. They were able to rest in the dorms and hang out with each other. Everyone was switching rooms and floors, as well as, there was mingling between different age groups. Everyone was getting along, making friends, and having a good time. The afternoon session started off strong, but it started to rain shortly into our session. The campers retreated into the athletic building near the field where they remained in their groups and worked on their skits for Thursday night. DTS Overnight Camps have a traditional Skit Night on the last night of camp. It's a great way for groups to bond with each other off the field and show off some of their other talents. They tend to create funny little skits or competitions!  The sun shower ended quickly so we returned back to the fields!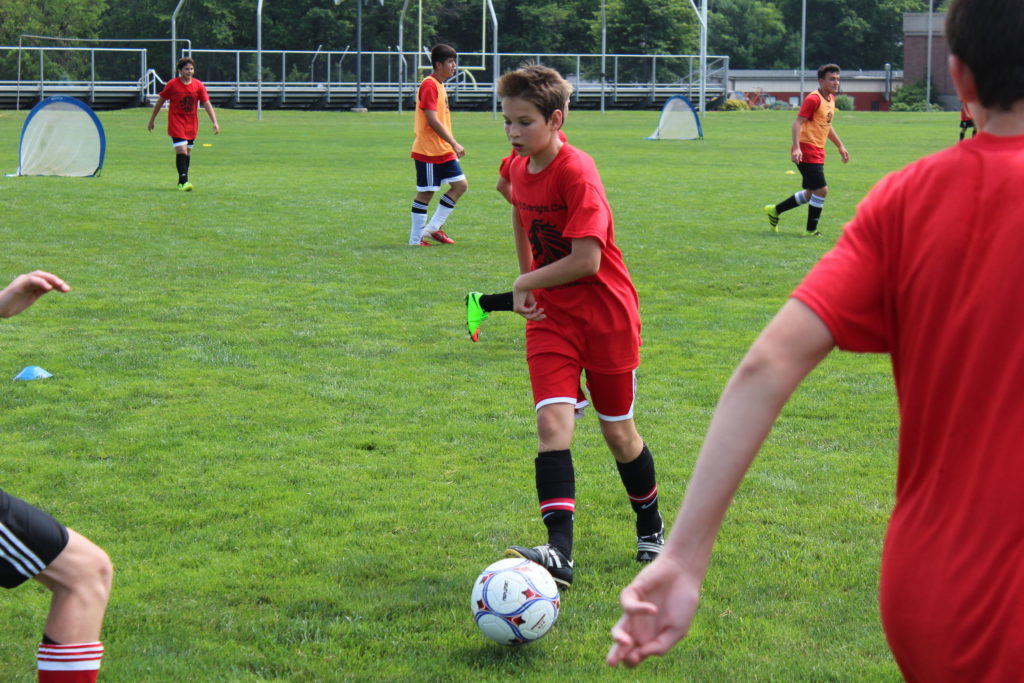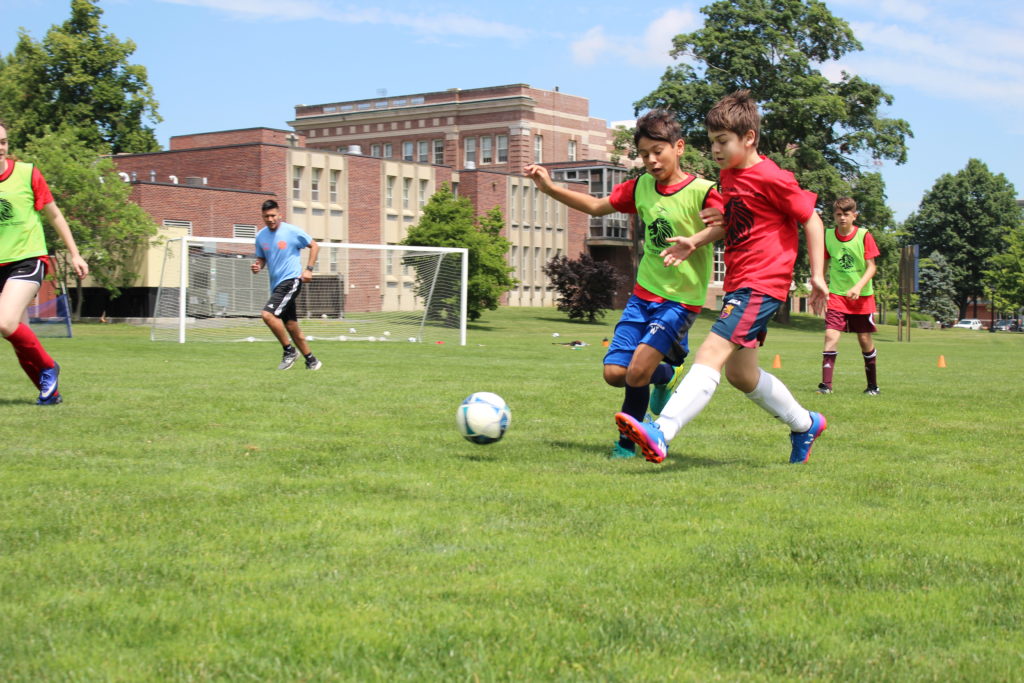 Tonight, we had Taco Tuesday for dinner! The campers absolutely love this because they get to create their own tacos and try out different combinations. After dinner, we had various stations for groups to participate in. We have soccer tennis, futsal, and small sided scrimmages in the ice-rink. This is a fun time for players to show off their celebrations and victory dances. After the evening session, the campers headed back to shower, have down time, and go to the snackshack. They will be waking up tomorrow for soccer aerobics at 6:45 tomorrow morning. So once again it was another successful day at the Peddie School and we are still thriving!
Wednesday June 28th
Today the kids woke up bright and early for soccer aerobics! Coach Aaron and Coach Jose led soccer aerobics and they motivated everyone through his words of encouragement and a lot of fast pace moves. The kids once again finished with a lap around the track where they raced Coach Tom. . They than headed to breakfast for waffles, yogurt, sausage, bagels, eggs, and bananas. Time to hit the field for the 1st session!
For the first session the we focused on transition moves, like side moves. We did that through some dribbling contests, transition scrimmaging and having players use repetition to nail down moves. The coaches took their groups through a series of side moves, which are used when players want to move forward but cannot. They then move left or right to get past their defender.  The dribbling contest is always a fun competitoin for players to see who can go the fastest through the course. Each coach set  up a course for their group and took out their stopwatches to see who would be the fastest! Some were down to the last milliseconds.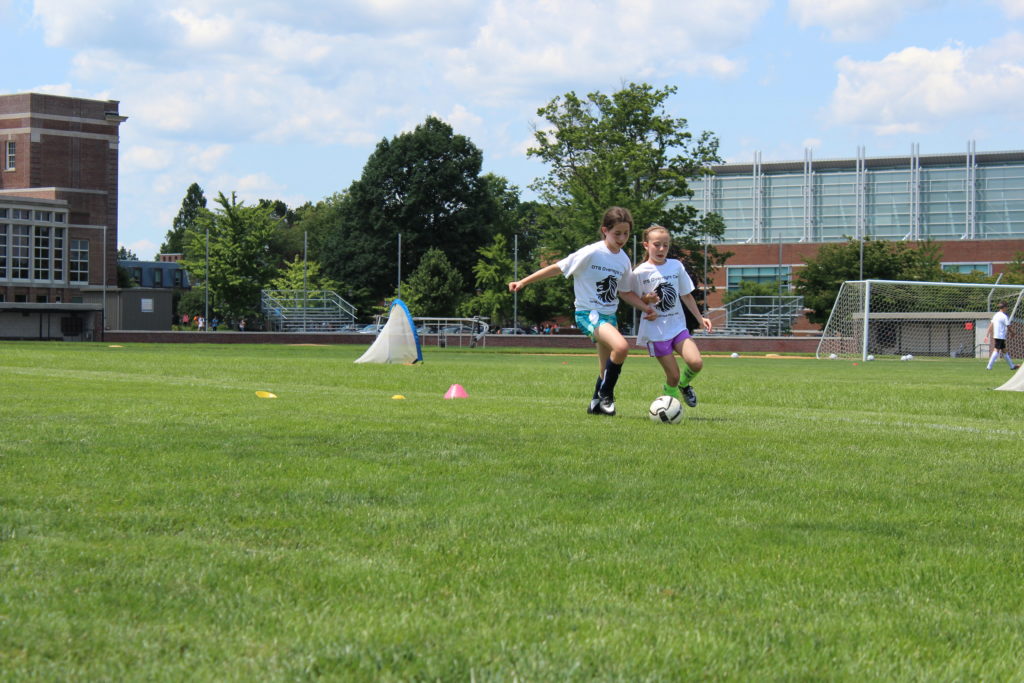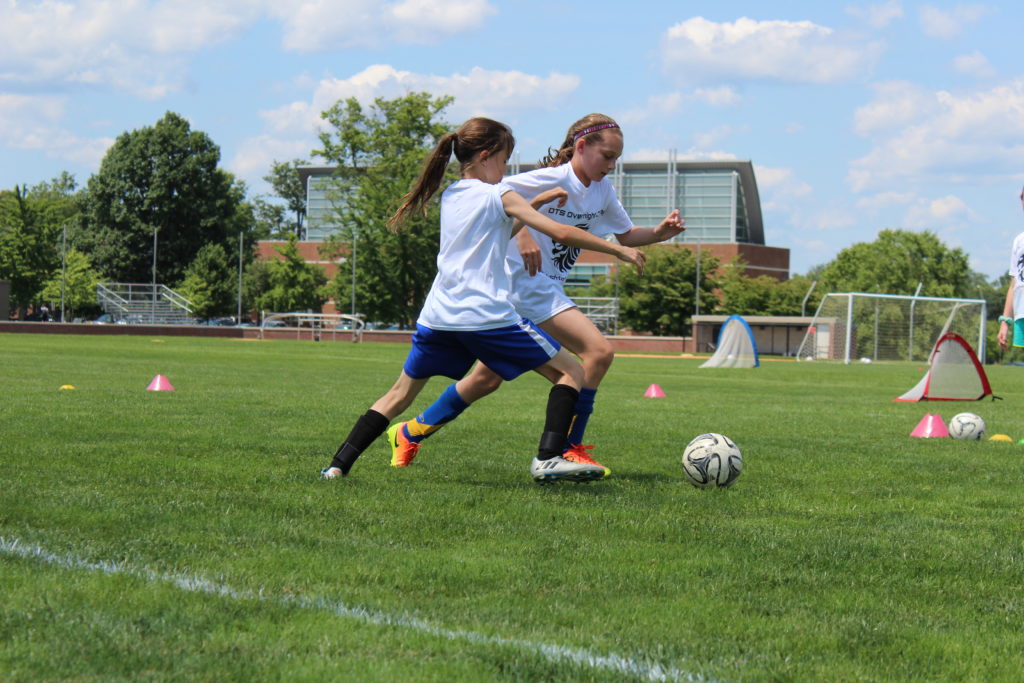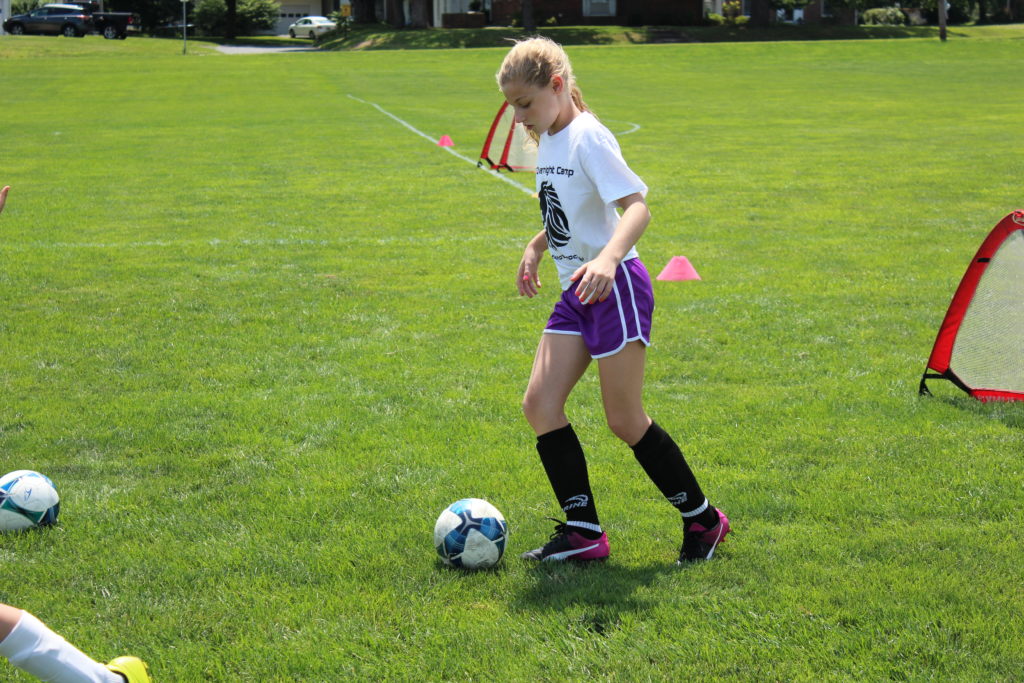 For lunch we had Mac and cheese, meatballs, salad bar, rice, sandwich bar, and all different kinds of fruit. Afterwards, they spent some down time in their dorms, where groups could meet to work on their skits, hav dance parties, or just relax.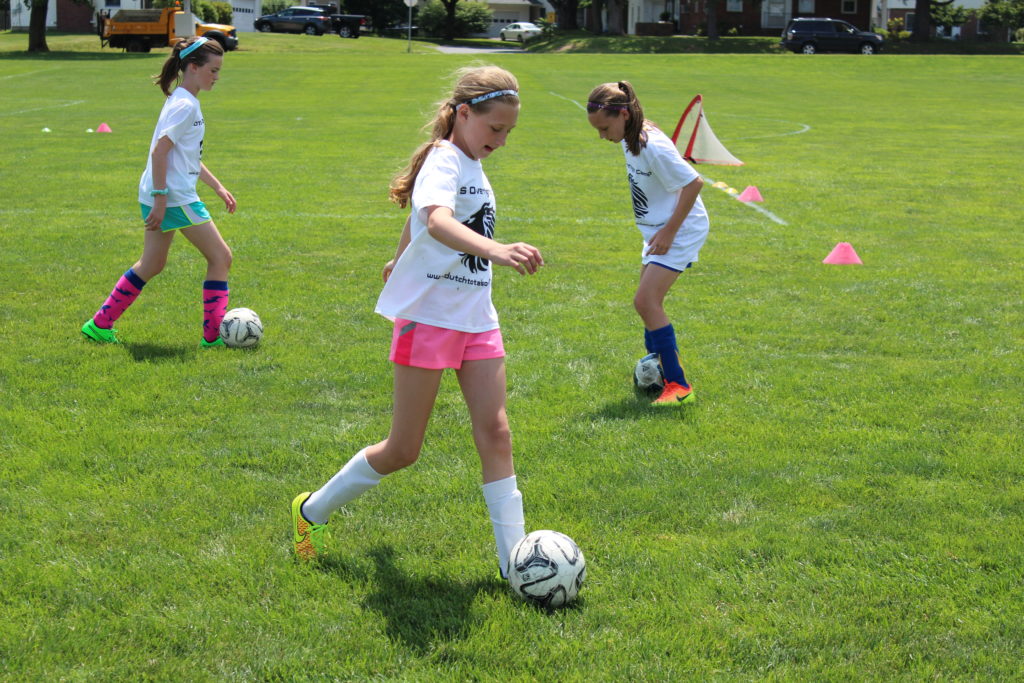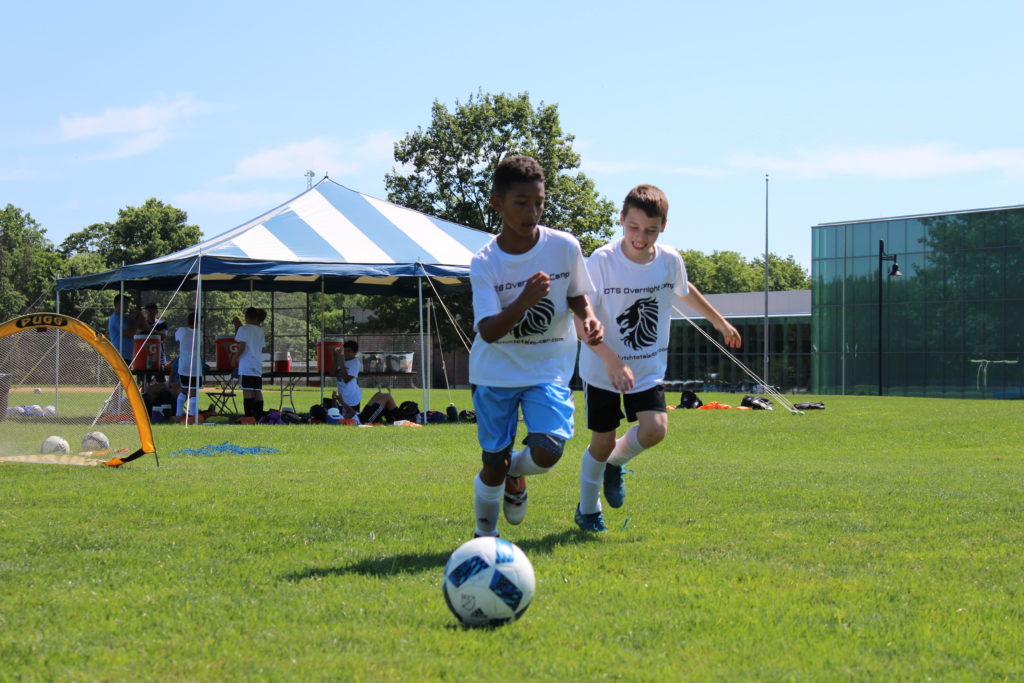 In the afternoon, we spent half of our time on the field and the other half of the day was spent in the pool!  Players had a great time and appreciated the break in their day. Afterwards, we went back to the dorms to change and to practice our fire drill. Every camp we always practice fire drills to make sure everyone knows what to do in an emergency.  We than went to dinner where they served rice, lemon chicken, salad bar, pasta, quesadillas, and some delicious cake. Afterwards the campers went out for their last night session of stations. The campers were full of energy as it was the last time they could play soccer tennis or try to get redemption playing against their coaches. It was fun, energetic night and the players were definitely tired afterwards. They went back to the dorms showered and just relaxed. They have their last full day of camp tomorrow and are planning on thriving all the way though!!!