Hi Parents!
Welcome to blog for the 2016 Overnight Camp at the Perkiomen School in Pennsburg, PA! We will be using this blog to give updates on what we're up to at camp this week. We know that your players are going to have a really great time and will definitely learn a lot. This week our Camp Director is Coach Bart and our soccer coaches are Coach Aaron, Coach Jose, Coach Leroy and Coach Rinus. You have also met our wonderful counselors and our Health Director Emily. We will be posting a few photos from camp here on our blog. To view even more photos from camp, check out our Facebook & Instagram (Dutch_Total_Soccer)
Sunday July 9th
Check In went wonderfully today!!! We want to take a moment to thank everyone for coming to camp organized and having patience while we settled everyone. The campus is beautiful and we are excited to start our week.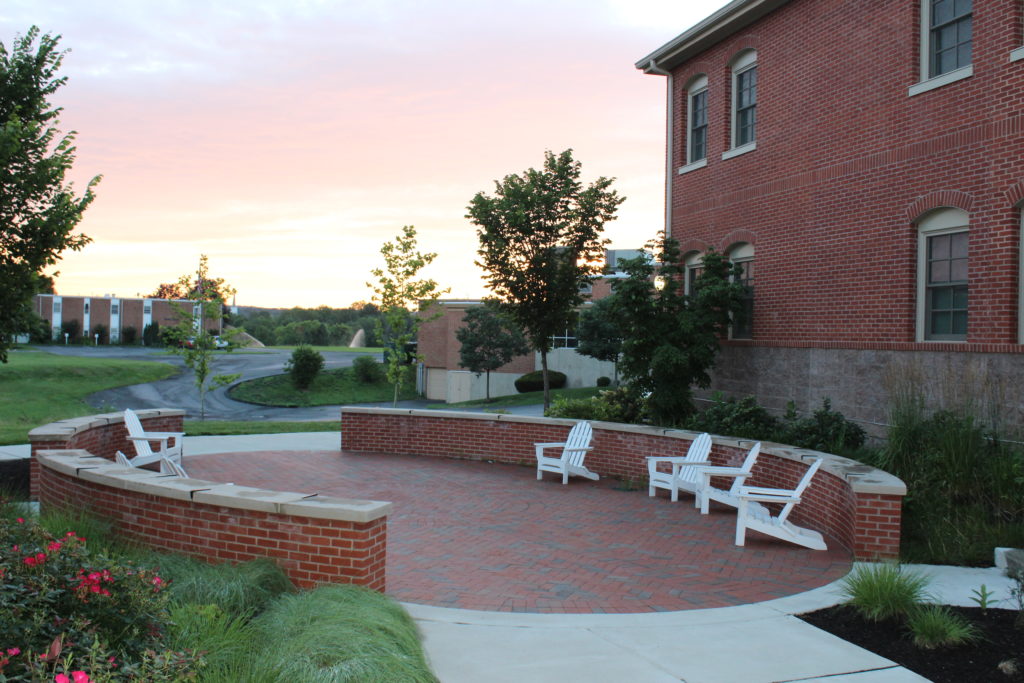 Camp started off on a great foot! Coach Bart startes us off with a discussion about our rules and expectations for the following week. After everyone said goodbye to mom and dad, we all went down to the fields very excited to start off the week. Once at the field, we divide the players based off of their age and then we create appropriate groups based off of ability. There, players get to meet and compete against their teammates and get to know their coaches by competing in small sided scrimmages. After our first session, we headed to dinner as a group. Our first dinner was a favorite with hamburgers, hotdogs, turkey burgers, stuffed shells, corn, ham, sweet potato fries, fruit, and salad bar all available. Before everyone ate, we explained how the campers should eat fruits and vegetables with their meals as well as to properly rehydrate with water. As the counselors walked around they could see plenty of fruits, vegetables, and glasses of water. Players must respect each other and their coaches, but they also need to respect themselves by giving their bodies the right nutrients to succeed!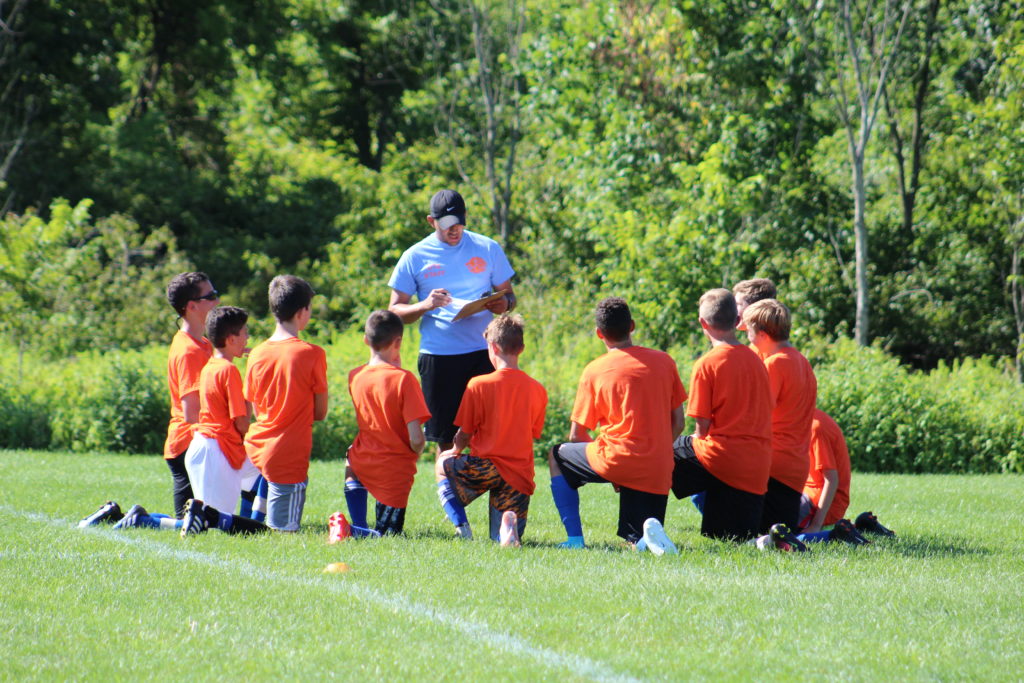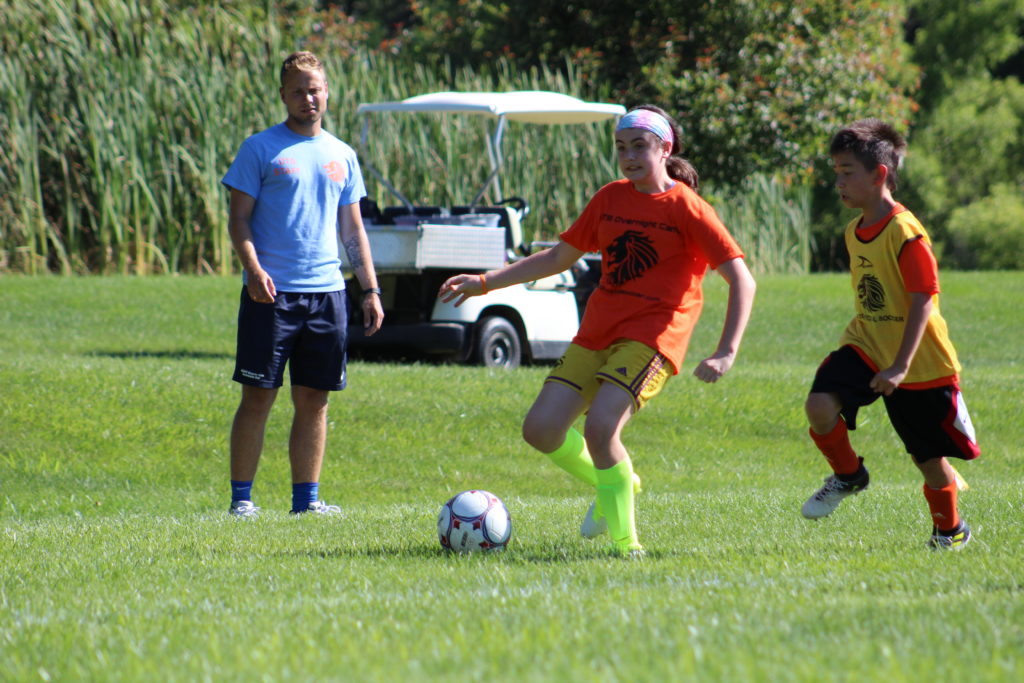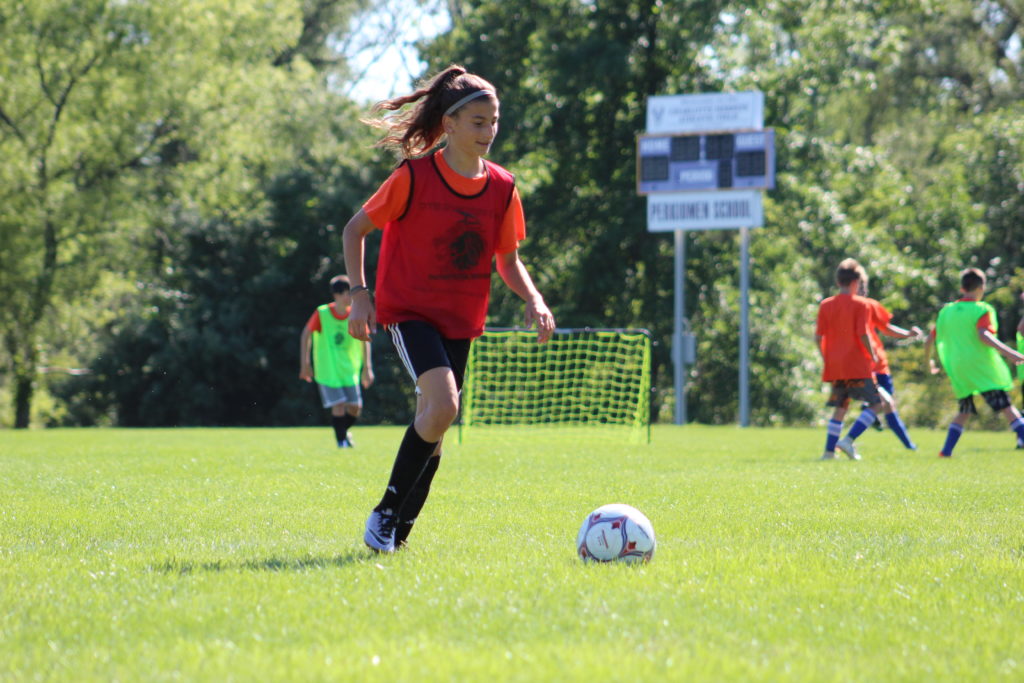 After we digested our dinner, it was time for our evening session where players scrimmaged and participated in team bonding games involving strategy. It is very important for players to work together and bond throughout this week of camp. We encourage players to limit their phone use and really get to know the people they are sharing this experience with! Afterwards, campers enjoyed downtime in the common areas where they got to eat snacks and get to know each other. It's also a time for everyone to unwine and relax! It was a great start to our first day and we are looking forward to our first full day of camp.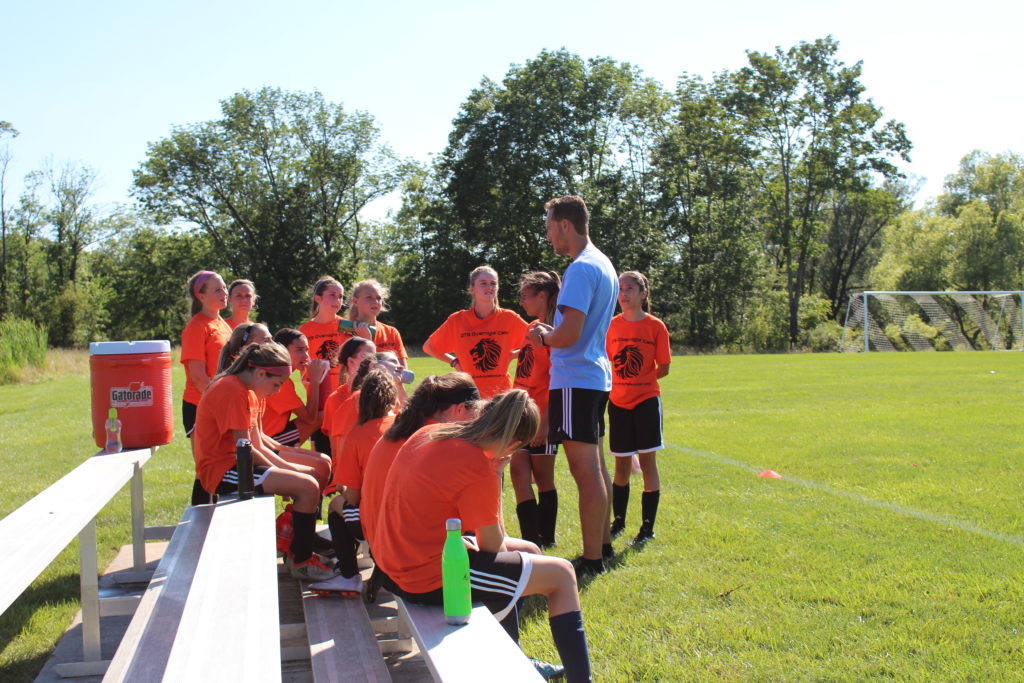 Monday July 10th
Today the campers woke up bright and early for soccer aerobics! We like to get the campers moving before breakfast to ensure they fuel their bodies for the upcoming day. Camp Director Bart started us off with a light jog and Coach Jose got everyone sweating with some additional exercises. Once soccer aerobics and breakfast were over, it was time for us to jump on the field.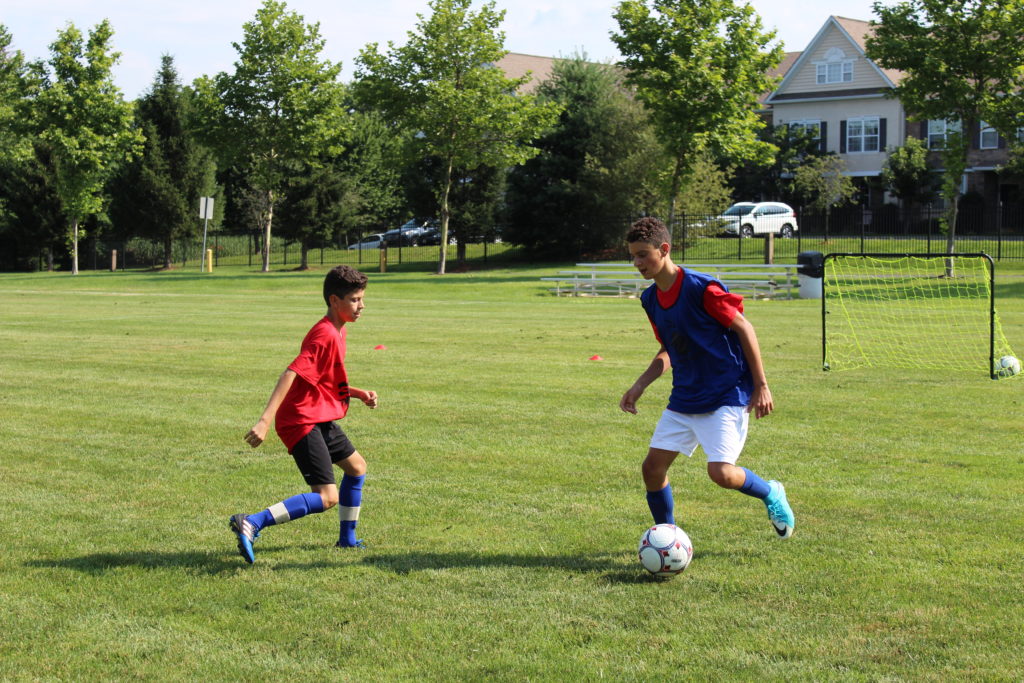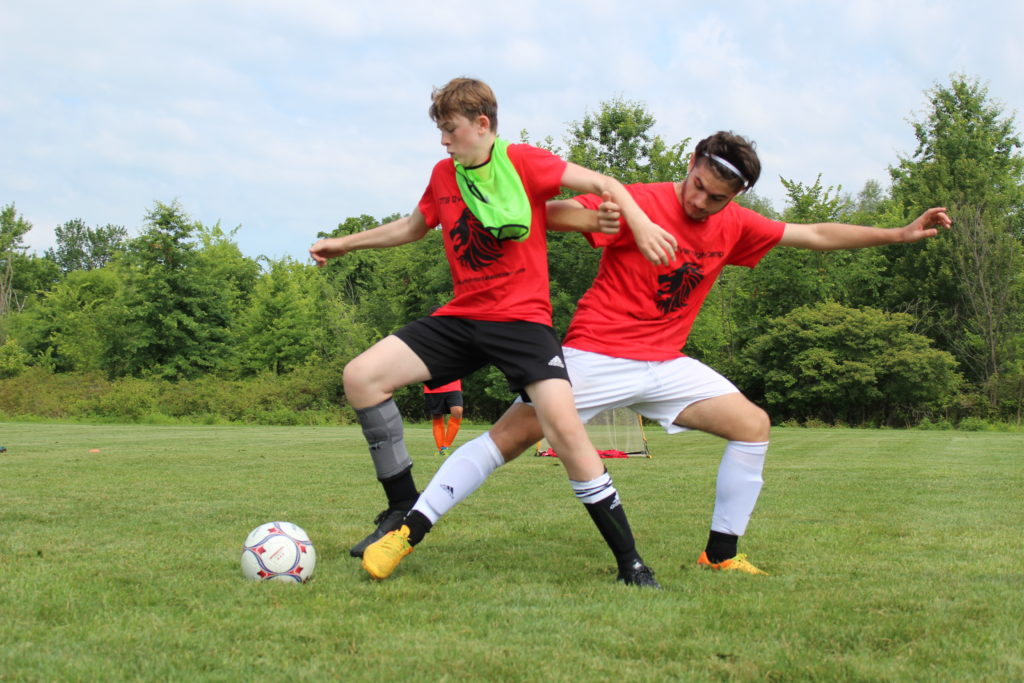 We started off today's session by breaking into small groups where players worked on moves to defeat the defender. We transitioned to 1 on 1 in game like situations and progressed to players practicing give and go's and movement off the ball. These types of workouts are very high energy and a lot of quick bursts of movements, so players needed a break after. We had a crossbar challenge where players compete against each other and the coaches to try to hit the crossbar from the furthest part on the field! Once we were refocused, players jumped into 3v3 and 4v4 scrimmaging to end out the session. Time for lunch!
Once lunch is over, players have some downtime to unwind, rest their legs, and hang out with their teammates. The afternoon session started with a long warm up because it was awfully hot and humid out! We made sure everyone received a lot of water breaks and breaks in the shade. During this session, we reviewed moves and tactics learned earlier in the day. From there, players went into 2v1 and 3v2 small sided scrimmaging to focus on getting past defenders and movement off the ball. From there, we expanded the session to switching the field. As a break, we had some juggling and shooting drills. Once players had a bit of a rest, we set up large scrimmages to focus on everything they learned today: attacking moves, give and go's, switching the field, movement off the ball. Time for dinner and a break to digest!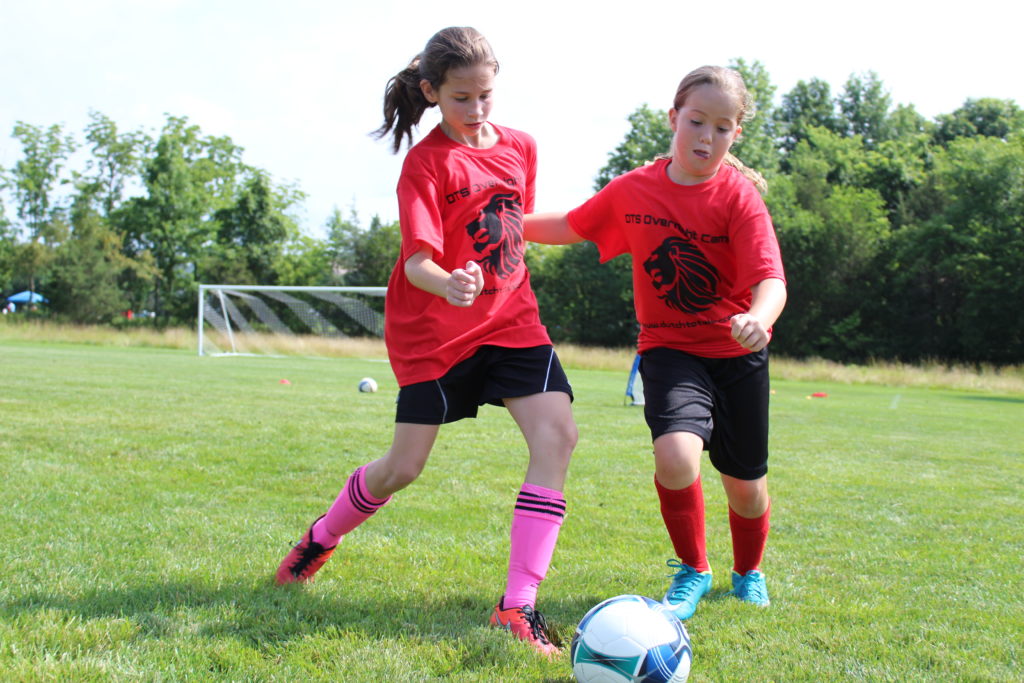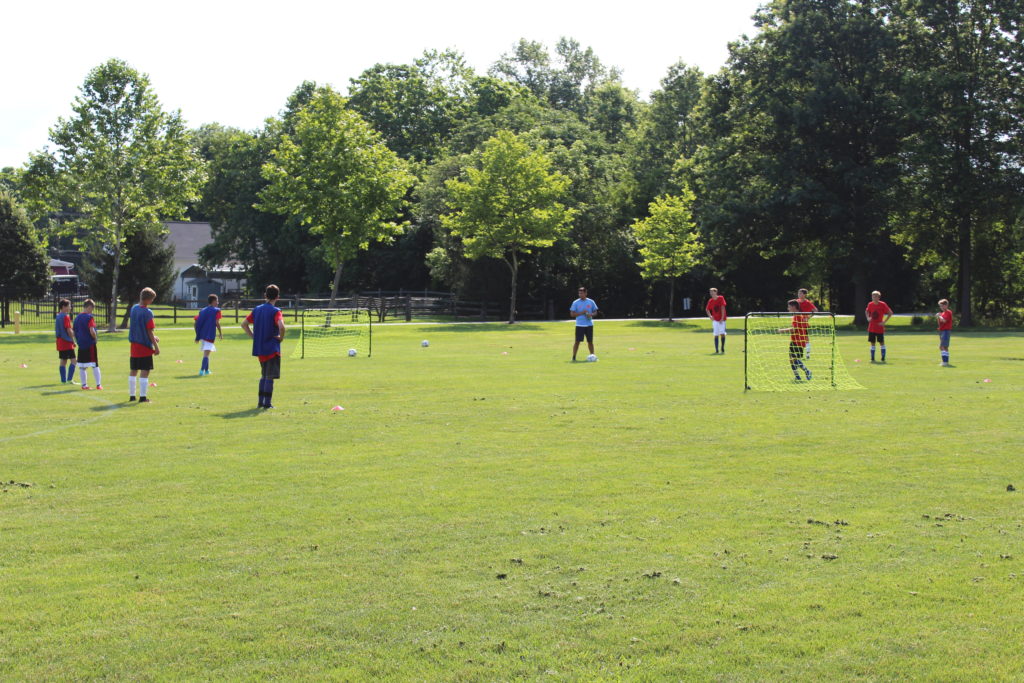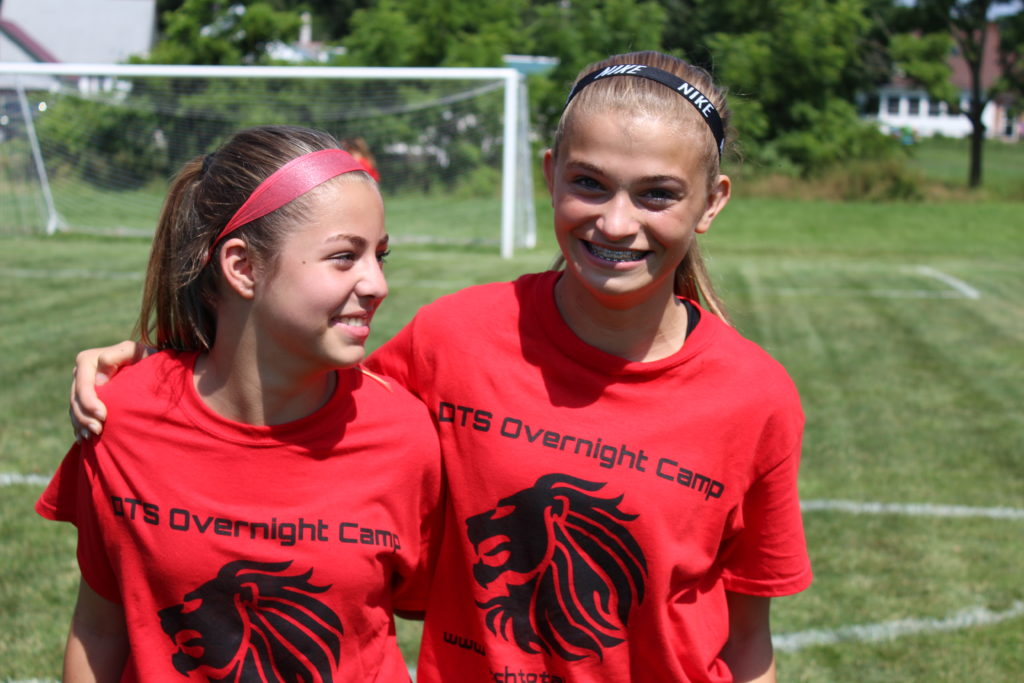 The evening session was a very enjoyable one! We always make sure these sessions are fun and our tradition is to run stations with each group. We have four stations and each group goes through two each night. We have kick ball, 4v4 scrimmaging, futsal and soccer tennis.  We make sure these sessions are fun, but we are soccer trainers so of course we added lots of competitive aspects! Everyone has been really enjoying the evening sessions and getting along with one another. Afterwards, everyone had their showers and enjoyed some downtime before lights out. Excited for another day!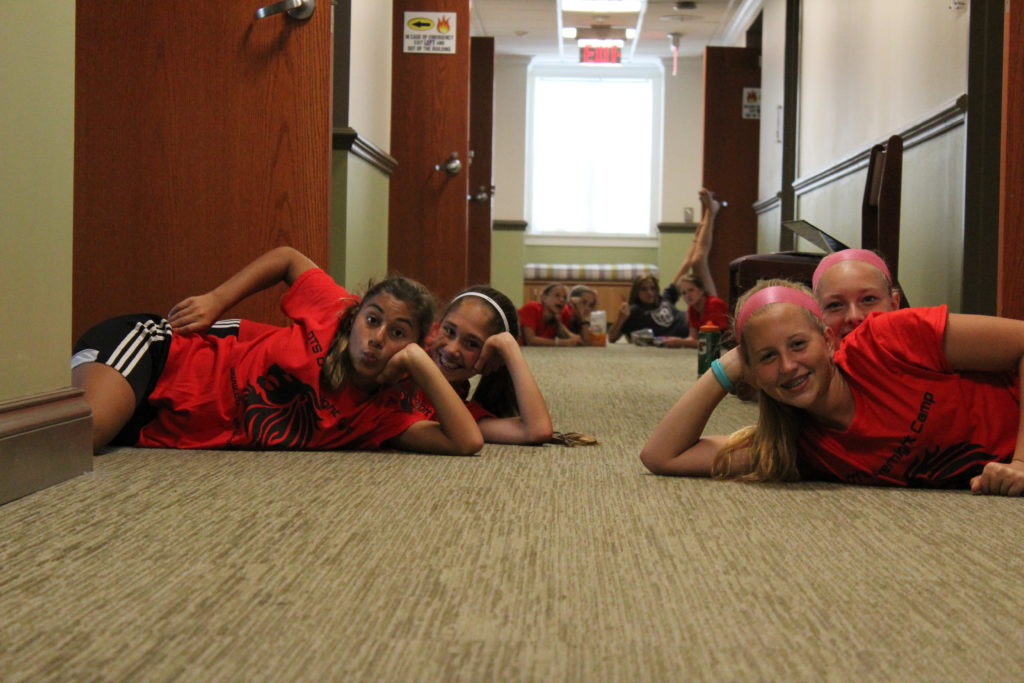 Tuesday July 11th
Today was another great day at Perkiomen! The campers got up for another day of soccer aerobics with Coach Aaron leading the run and Coach Jose making sure everyone was moving and stretching! After Soccer Aerobics they went to breakfast where they had pancakes, eggs, hash browns, apple fritters, yogurt, bagels, fruit, and cereal. The campers returned to the dorms after breakfast to have some quick down time to digest their food and grab all their cleats, shinguards, and indoor shoes.
We were a bit concerned about the weather for today, because they had expected some thunderstorms. Thankfully the weather held out through the whole day! Today's morning session was focused on side moves and we expanded on switching the field. The campers learned various side move which is helpful to know because if they can't go forward their next move is to go the side. To build upon the campers going to side, they also worked on switching the field. Later in the session there was some shooting done and some scrimmaging.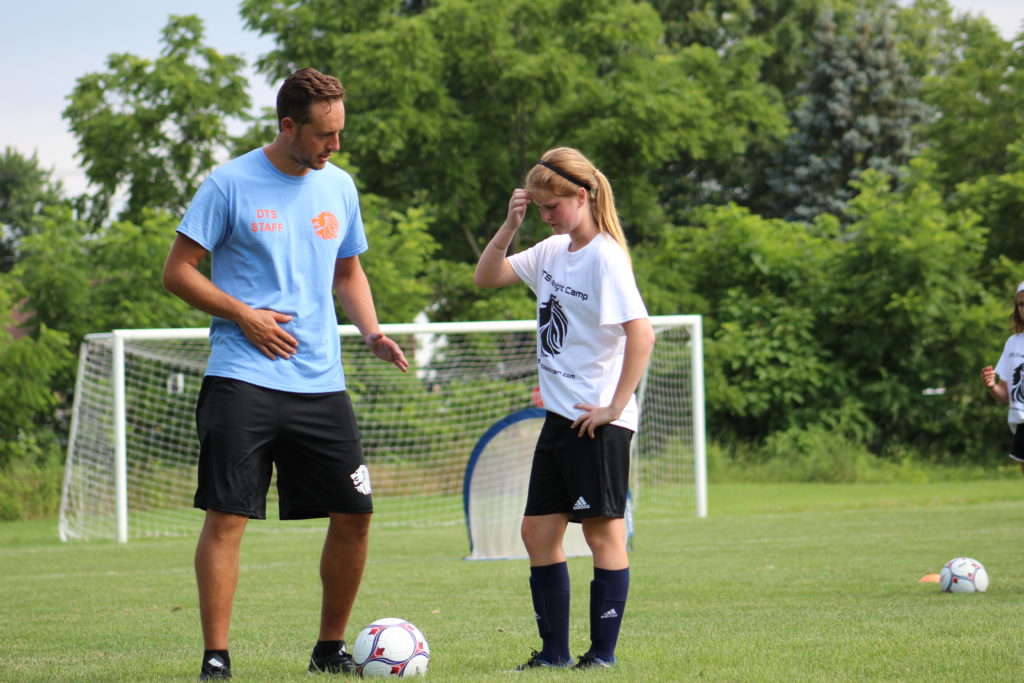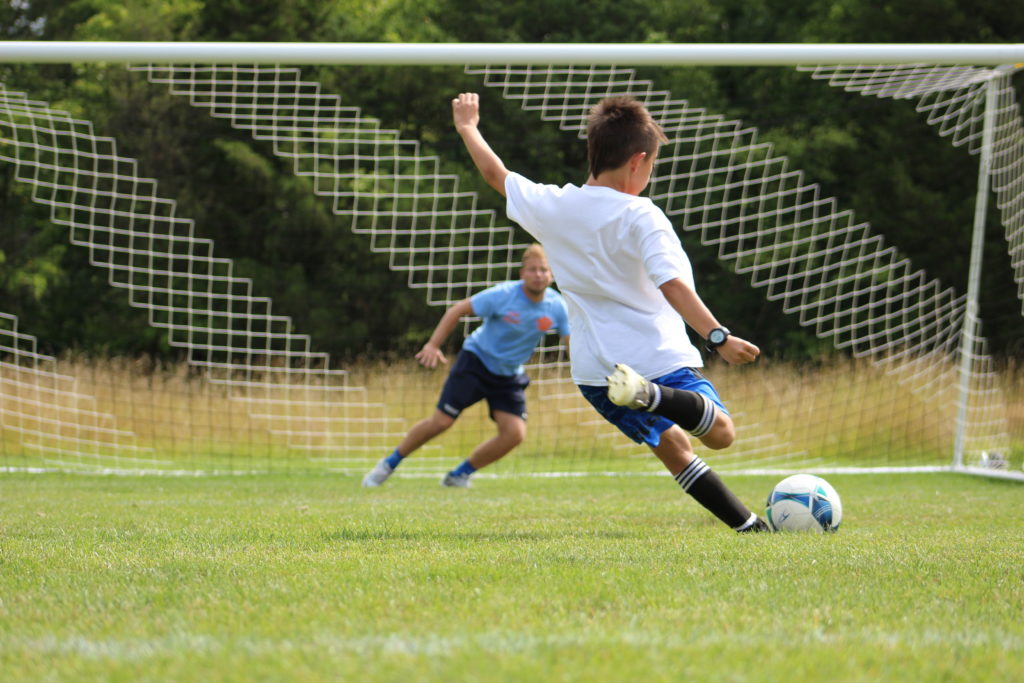 After the morning session the campers definitely worked up an appetite, so we went to lunch. For lunch there was pizza, grilled shrimp salad, grilled chicken, sandwiches, and, of course, fresh fruit and the salad bar.  The counselors made sure everyone was drinking water, Gatorade, or apple juice to stay hydrated. Once the campers were done with lunch, they head back to the dorms for some downtime. After their nice and relaxing break, they went back to the afternoon session where they worked on demonstrations that their parents will see at the end of the camp, 4 v. 3 and 4 v. 4 scrimmaging that made them work on switching the field, and a juggling contest.  The campers got plenty of water breaks in this session and in between drills, were able to work on their skits for Skit Night. Skit Night is held on the last night of camp and is a tradition for Soccer Centers Overnights. It is a way for campers to show their other talents and let loose and have fun in a different way!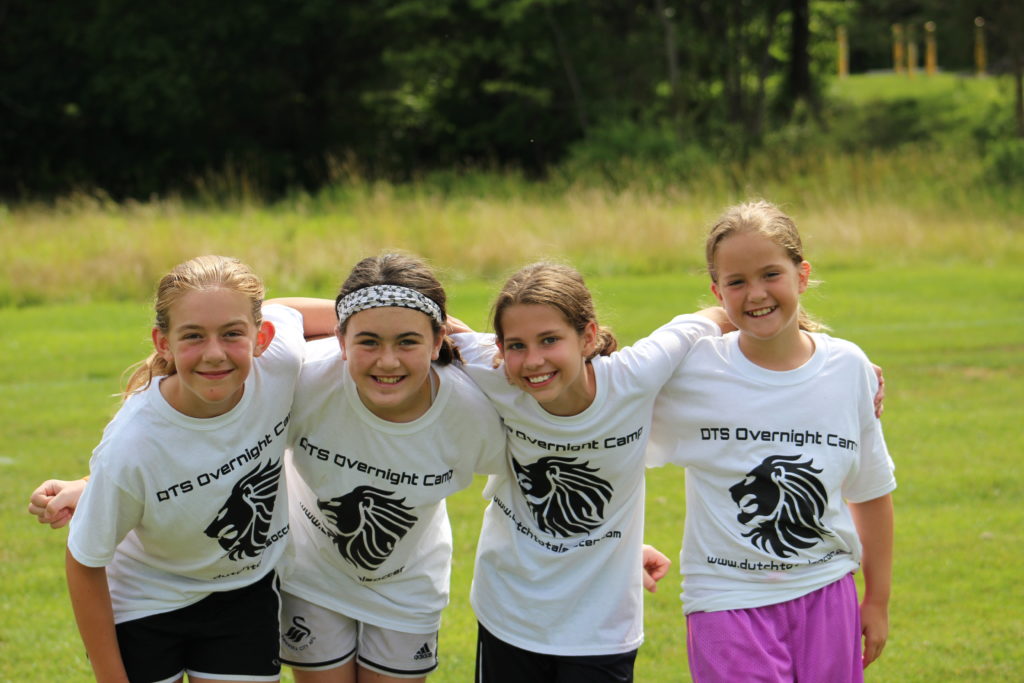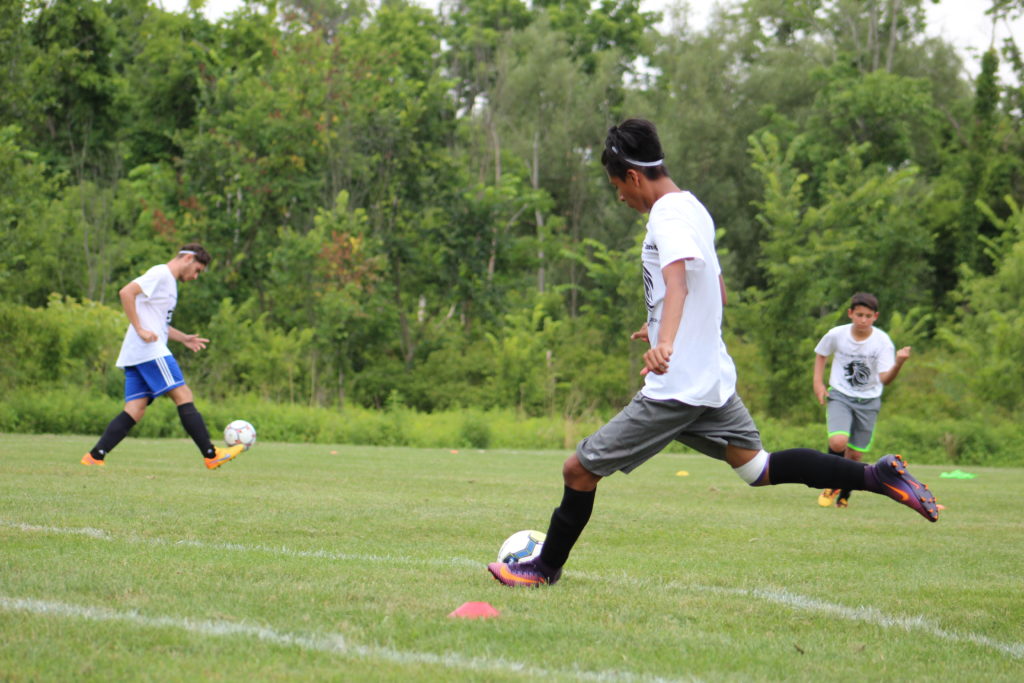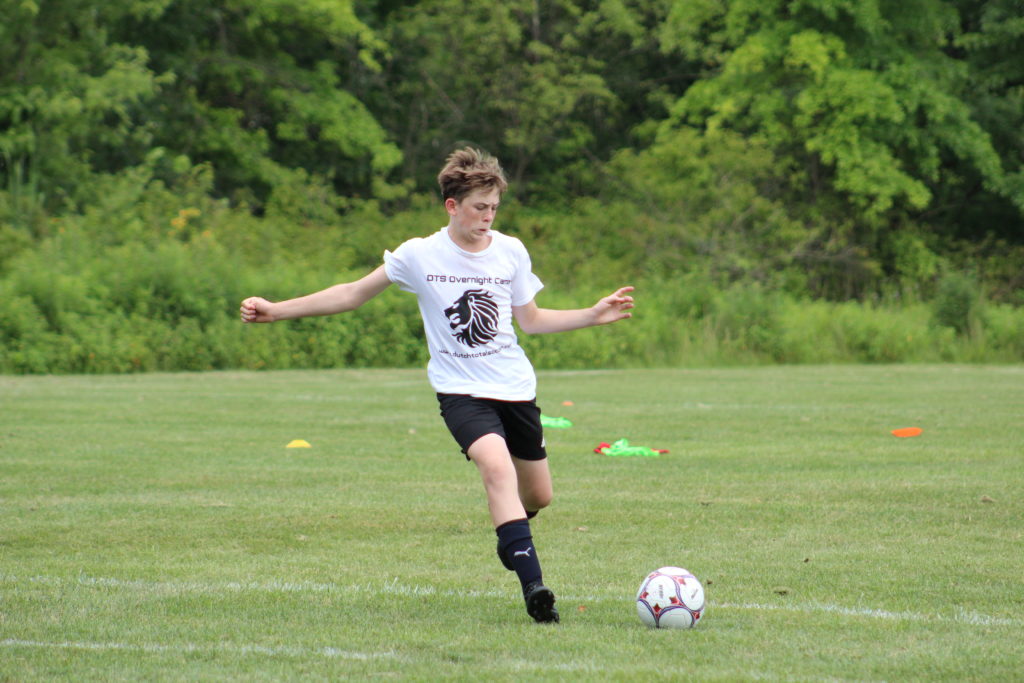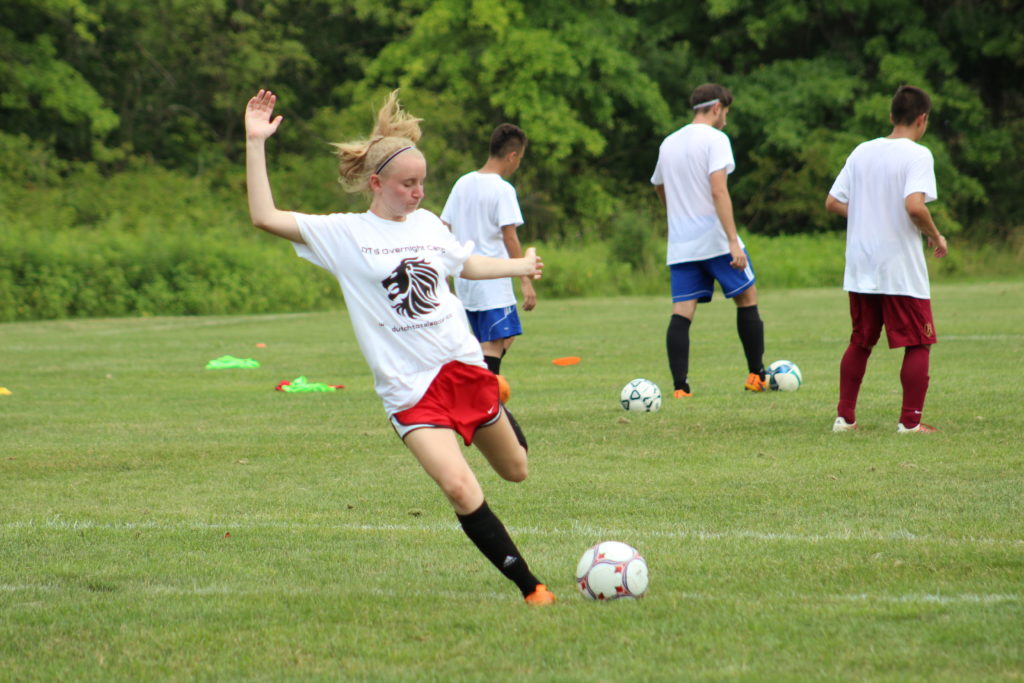 The campers headed back to the dorms after the afternoon session for some more downtime. Many campers spent this time taking naps and resting, or continuing to work on their skits.  Campers headed to dinner shortly after where there was pasta with broccoli, fish, hamburgers, hot dogs, green beans, and seasoned potatoes. Oh! I almost forgot, there was also fruit and a salad bar.  After dinner, they once again did stations of soccer tennis, futsal, 4 v. 4, and soccer kickball. Coach Jose and CoachLeroy's groups took a speaker to the field today where Coach Jose blasted some tunes that made everyone dance. Coach Aaron and Coach Rinus's groups had some victories screams, cheers, and high- fives going on at their games. It was a fantastic night, especially for our last night of stations. The campers had so much fun that they forgot how tired they were getting, because once they got back to their dorms they all showered and sat around watching America's Got Talent together! Stay tuned for tomorrows blogs post for Dutch Total Soccer Overnight Camp and Perkiomen.
Wednesday July 12th
Campers woke up at 7:15am ready to start their last full day! We had scrambled eggs with bacon and cheese, hash browns, sausages, yogurt & granola, and some french toast. After breakfast we went back to the dorms for a quick break before we head down to our first session. For our first session, campers worked on back moves and passing drills. We included some fun competitions like a dribbling and juggling contest. Each coach set up their own dribbling courses to challenge their groups. The player with the fastest time wins and they got multiple chances to beat their time. Once our training session was over, players went to lunch and afterwards spent their downtime practicing for Skit Night.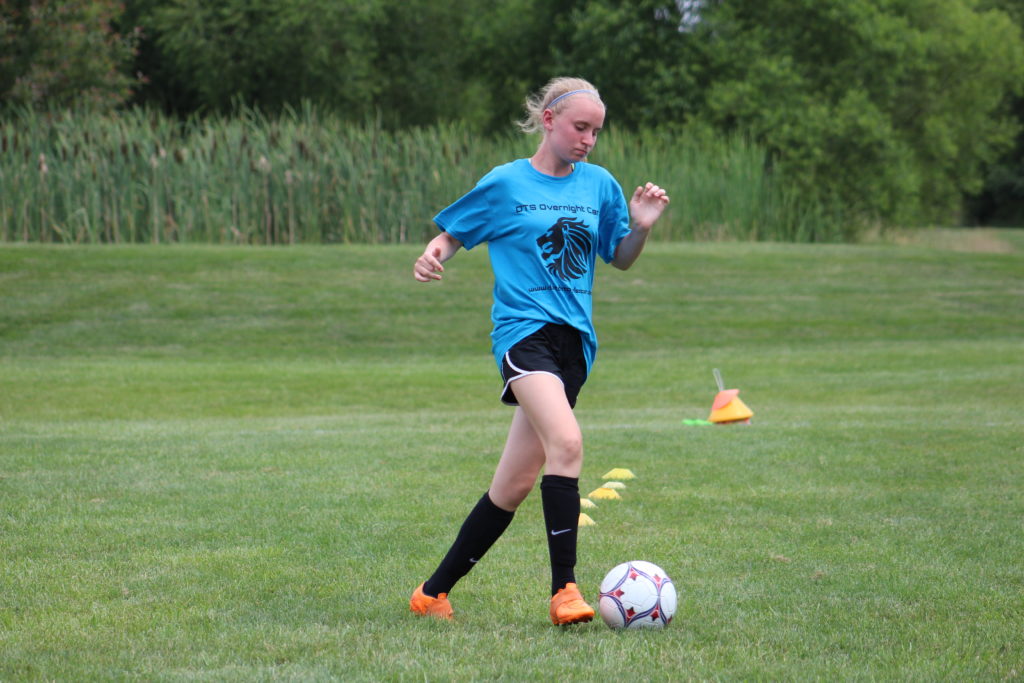 Today's afternoon session, players practiced for their demonstration that will be for parents tomorrow. Everyone is very excited about showing off what they learned! Demonstrations included topics such as shooting drills, 4v3 towards goal, large scrimmage, focusing on switching the field, and large sided games. Campers had a lot of energy in this session because it was their last session of the day. Coaches made sure to push players to their potential since they would have the evening off. Once they were done with the second session, we headed back tothe dorms where they got to shower and relax before their evening festivities begun.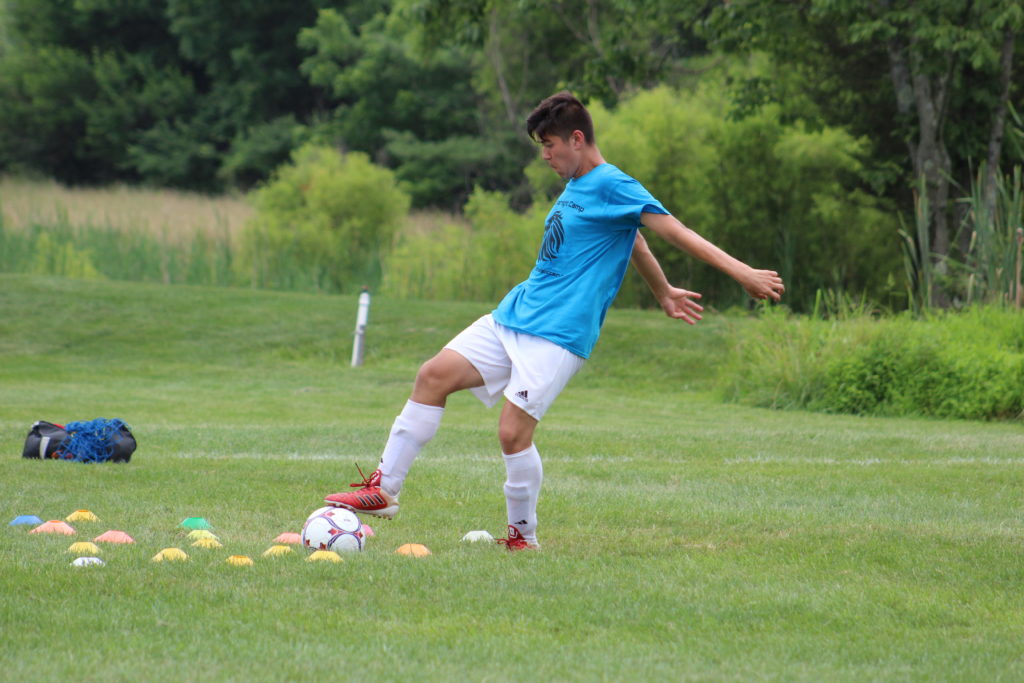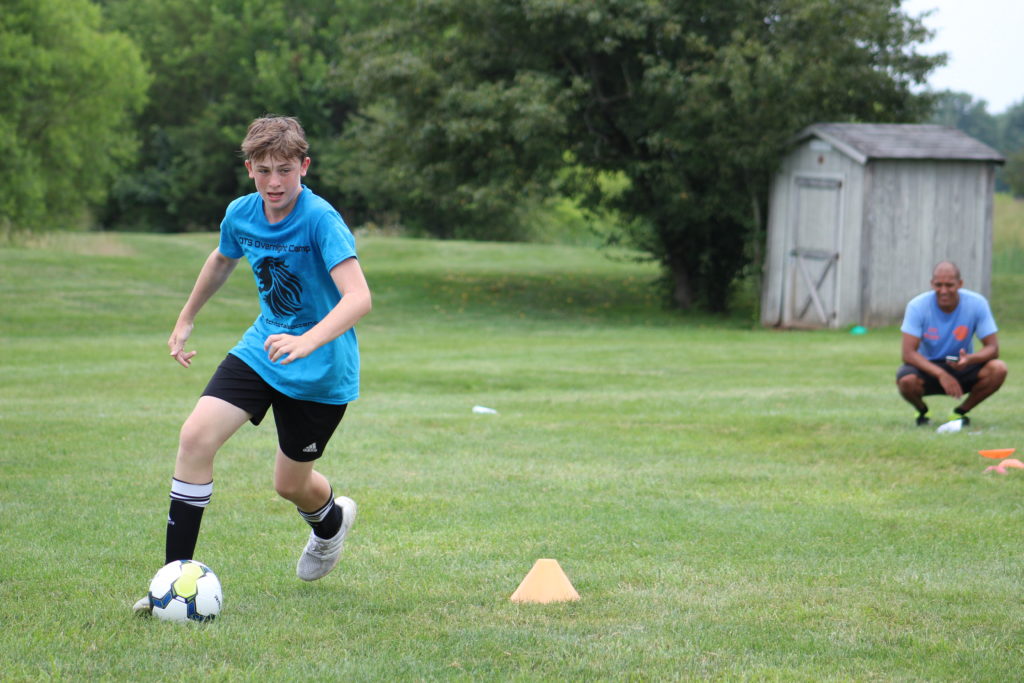 Skit night is a tradition at the DTS Overnight Camps! Each group performs an act for their peers and the counselors and trainers also provide their own performance. Coach Leroy and his group set up a fashion show for everyone. The group of definitely worked the stage! Next up was Coach Aaron's group who impersonated every coach and counselor. They made everyone laugh – even the staff they were impersonating. Coach Jose's group did a Family Fued game show with an All Girls team and an All Boys team. The Girls team got the number 1 answer to every question! Coach Rinus' group did a Mini DTS Got Talen where Jelani and Blake both danced and killed it! Noah told great jokes and Kenzo was a hilarious magician. To end skit night, coaches performed by having the counselors sing with marshmallows in their mouthes, whistling to a song after eating powdered donuts amongst other embarrassing and funny activities! At the end of the day, no one wanted Skit Night to end so we had a sing off competition. Everyone had a great time and afterwards they went back tot he dorms to hang out with friends, pack up, or go to sleep nice and early. Great week of camp and looking forward to seeing everyone tomorrow!